A global reduction in sockeye supply this season could spell higher prices for purchases of the world's most important wild salmon species.
Andy Wink, executive director of the Bristol Bay Regional Seafood Development Association (BBRSDA), which promotes wild salmon harvested in the region, told members during a webinar held in late August that supply for sockeye has tightened worldwide this year, leading to a firmer wholesale market -- good news for a sector which saw dismally low base prices in July.
"It looks like we're going to be seeing a huge reduction," Wink said, noting 2013 was the last time sockeye salmon experienced similar market conditions.
Bristol Bay fishermen hauled in nearly 40 million sockeye salmon during the commercial season, a number that will likely account for around two-thirds of the global supply of the species, Wink said. He pointed out that while Bristol Bay saw success, other key fishing regions for sockeye, such as Russia, struggled with poor catches.
"To what degree it's going to firm or whether it's going to go up or down, that's a crystal ball," he said, but added the market is already responding to the tightening supply, with these conditions expected to continue over the next 10 months.
The X factors
One major issue affecting prices this year versus the market in 2013 is the value of the US dollar, according to Wink.
"When global recessions hit or when there's economic turmoil, financial markets kind of run to the dollar and the dollar gets stronger," he said. "That's what we're seeing."
The US dollar is roughly 30 percent stronger than it was in 2013, the last time global sockeye supply was this constrained.
A strong US dollar is a negative market condition for US exporters -- essentially making American products more expensive to foreign buyers.
Several other factors have made prices uncertain for fishermen in the bay this year.
One issue was a "historically compressed" sockeye salmon run in July, which was made more challenging by reduced staffing at plants due to COVID-19 measures. The resulting limits put on fishermen by processors impacted product mix, Wink said.
Processors, overloaded and under capacity, turned to headed and gutted (H&G) product rather than value-added fillets.
Factors that also shaped this year's shaky season included an overly-productive 2019, consolidation among Bristol Bay processors, and hefty COVID-related costs.
Sockeye continues to soar at retail level
Despite foodservice continuing to struggle, sockeye salmon at the US retail level continues to sell for a high price, according to Wink.
Eight retail chains containing over 1,200 individual stores hosted branded Bristol Bay sockeye salmon promotions or promoted salmon from Bristol Bay online, with many seeing significant sales gains, according to the association.
Spokane-based Rosauers Supermarkets saw a dramatic sales increase of more than 120 percent in both volume and revenue over the previous year's non-promotion sales period. Other prominent retailers across the US promoted fresh Bristol Bay sockeye salmon both in stores and online including H-E-B, Heinen's, Hy-Vee, QFC, Raley's, Rosauers and Whole Foods.
Adam Branin, a meat and seafood merchandiser with Kroger-owned QFC, confirmed with IntraFish sockeye supply has been "a little tight" this year.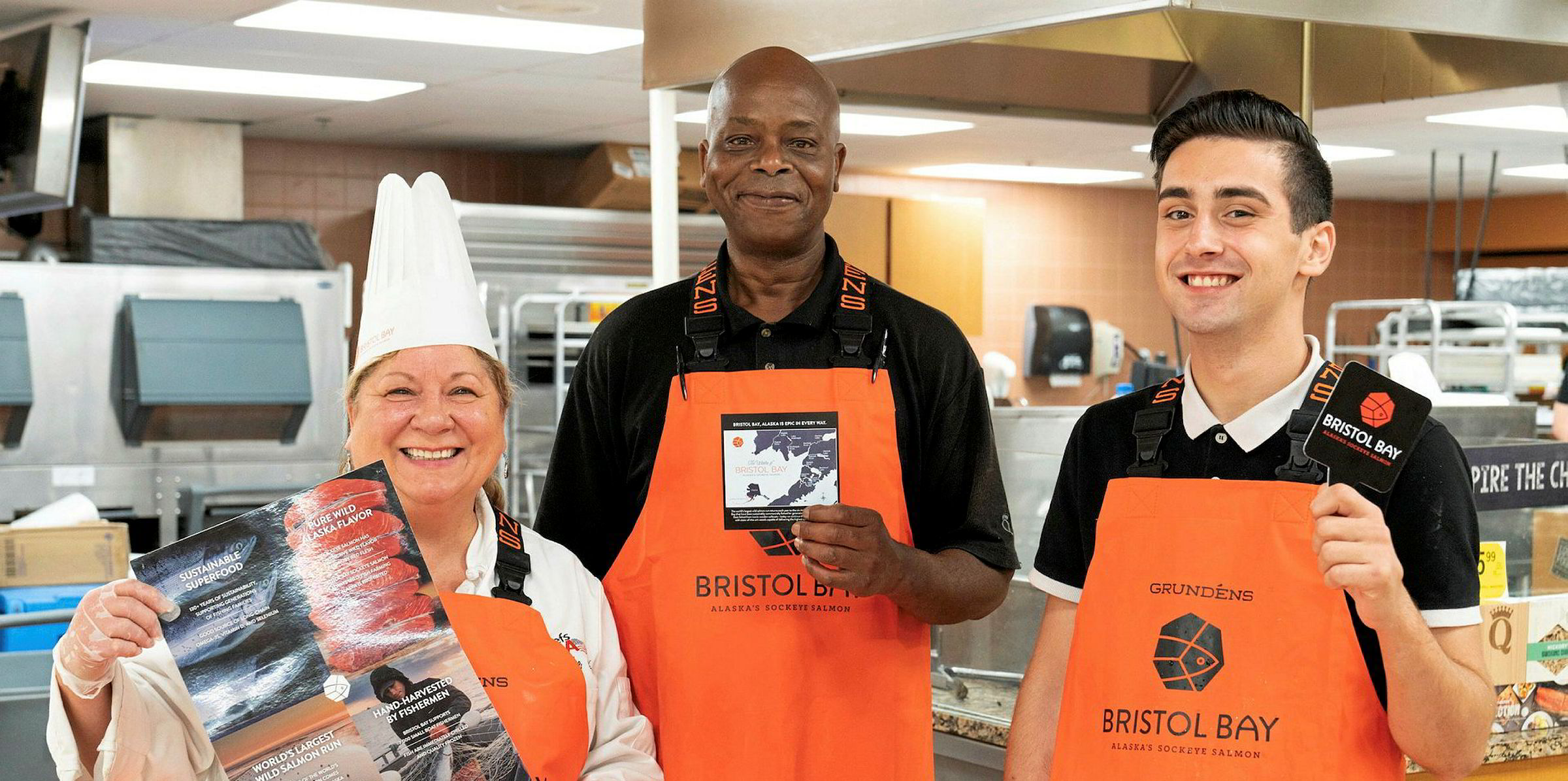 "It does sound like we will be able to put up enough frozen sockeye to get us through the year until fresh season next year, so that is optimistic," he added.
One issue that might have dampened prices despite strong retail demand is processors and distributors paying higher operating costs this year.
Wink estimates processors paid between $15 million (€13 million) and $35 million (€30 million) in COVID-related costs this season, with those costs impacting per round sockeye prices by between 7 to 17 cents per pound.
"If there are losses in one segment, they do have to be offset by another," he said. "That's going to vary processor to processor."
Wink added that while the commercial fishing season may be over, the 2020 sales season for sockeye "is far from it."