Taprobane Seafood is not your run-of-the-mill seafood company.
Set up in post-civil-war Sri Lanka, one of the country's largest raw, processed and value-added seafood companies has played an integral role not only in growing the country's shrimp farming industry but in taking a conflict-torn community with it.
The war in Sri Lanka between the separatist Tamil forces and the government was bloody and long, with a death toll of over 150,000.
Starting as a minor insurgency in 1983, it took almost 26 years for the government to finally suppress the conflict.
Part of the devastation left in its wake was a large number of war widows and their children. Spread across every caste, every ethnicity and every religious group, these women were left to be the only breadwinners for their families, often bearing the added burden of having been expelled from their wider communities.
Around 80 percent of Taprobane's workforce, from factory workers to security guards and management, are now made up of these women.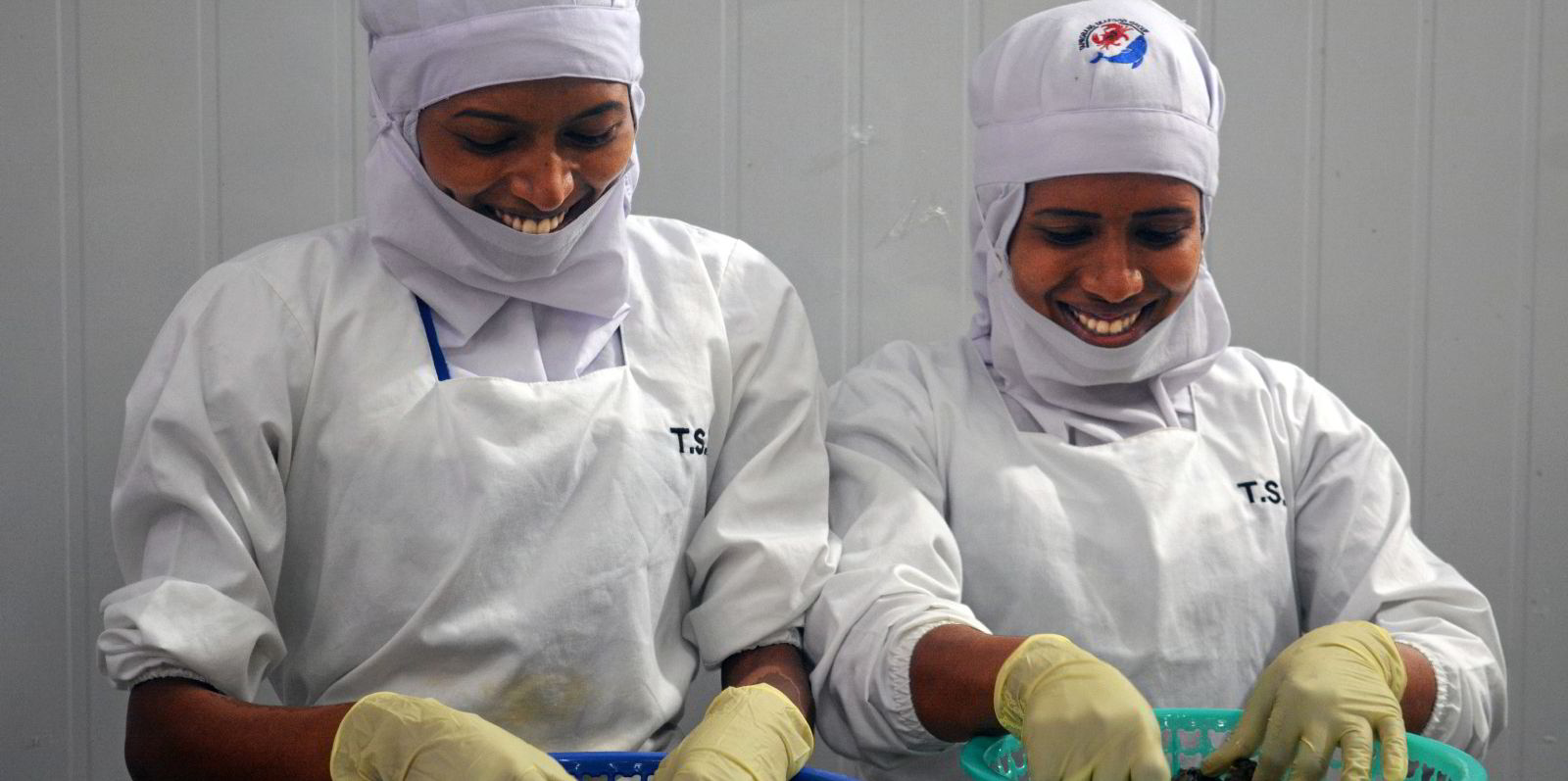 Falling on deaf ears
It is the ultimate seafood company story. Traceable, sustainable product from a fully integrated company, produced ethically to help local communities rebuild.
But it is not one the US market, the world's biggest shrimp market, is ready to voice, CEO Tim O'Reilly tells IntraFish.
"It just gets buried. They just don't want to put the effort in, or it is going to give them issues with some of their other sourcing," he said.
"As soon as you say as a supplier, for example, you have 100-percent digital traceability on your crab meat or your shrimp, they become worried that customers might ask why Indonesia, for example, doesn't have that."
In short, O'Reilly said, Taprobane's story has the potential to open up too many questions about other products in the supply chain.
Currently supplying retail in Australia as well as markets in New Zealand, the UK, the Netherlands and Japan, the challenge has left the company in a quandary about how best to enter the market.
Push back on vannamei
Market hurdles are not the only challenges Taprobane faces. In a traditionally black tiger (monodon) industry it took the company nearly four years to get vannamei approved for farming in Sri Lanka.
"We had lots of pushback from the local industry," said O'Reilly.
Farmers there were concerned with the stories coming out of the Thai vannamei farming industry and others about early mortality syndrome. You are also not allowed to import frozen shrimp into Sri Lanka.
"So the local monodon farmers felt like they had a monopoly on the on the market and, I mean, they did," said O'Reilly.
With some "pushing and prodding" and a strong domestic market from the country's recovering tourist industry, in 2018,Taprobane finally got approval and quickly ramped up to 25 percent of the country's total farmed shrimp production.
The company now has 16 processing facilities, employing over 2,000 direct employees throughout Sri Lanka's northwestern and northern provinces.
In spite of crushing headwinds, Taprobane doubled production last year to 15,000 metric tons. This year, it is on track for 19,000.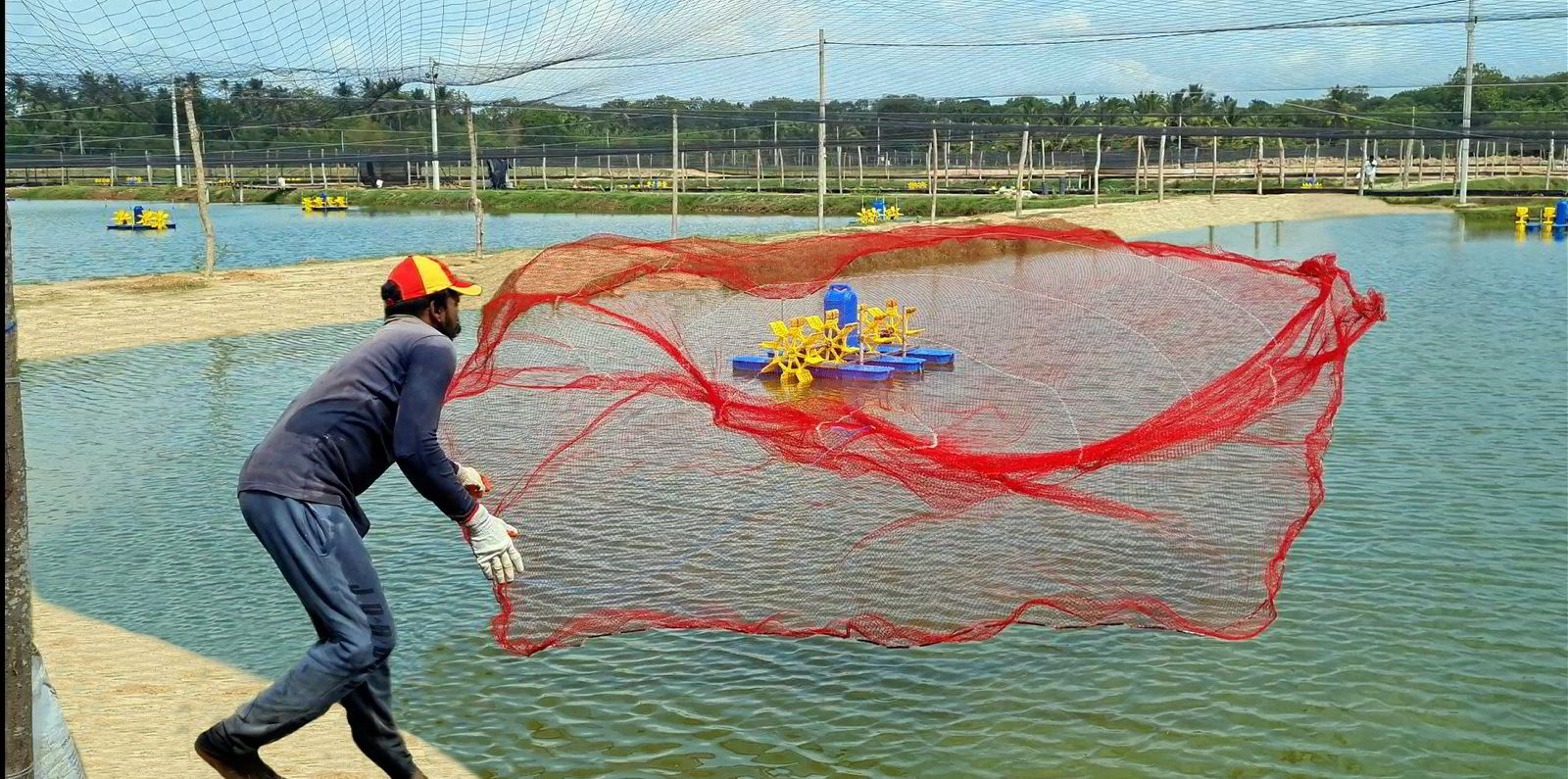 "We've had no fuel, we've had political crisis, we've had economic crisis ... but we've still achieved that this year. And we feel by 2027 Sri Lanka could be producing 100,000 metric tons," said O'Reilly.
A contributor to this fast growth is the huge number of abandoned farms on Sri Lanka's east coast left behind by the war.
"There's a 400-acre farm that's been abandoned for 30 years just sitting there, you know," said O'Reilly, who is now working in a three-way partnership with the community and government to lease it back and try and get it re-activated.
He uses neighboring India as an example.
"If you look at a period in India, 2013-2016, where you actually see that rapid expansion," he said. "And a lot of that is just everyone converting from monodon to vannamei, after a decade of failure from white spot."
Trying to close the gap
O'Reilly and business partner Dilan Fernando have done their best to ensure the wealth of Taprobane's growth is shared.
Having spent a lot of time in countries such as post-war Cambodia in the late 1990s and early 2000s, O'Reilly wanted to make sure that when they set up in Sri Lanka, they were really working directly with the producers, so they could bypass middlemen and protect the workers.
"I knew as soon as we came into the north and we started doing pasteurized crab meat and and we started developing shrimp, that we're going to go from zero to 100 very quickly. And in other countries I worked in the middlemen went from zero to 100 and the communities got left behind," said O'Reilly.
"I think we've done a reasonably good job to drag people along as our companies got bigger."
Working with the United Nations and the Australian government, Taprobane has created partnerships with local women's societies and fishing cooperatives, putting in capital for facilities, and ensuring local communities take revenue from the projects.
New! Shrimp Newsletter
Track our enhanced coverage of the rapidly growing global shrimp sector with our weekly newsletter, rounding up breaking news, analysis, insight and commentary.
As for the war widows, Taprobane's factories became refuge centers for them and places the UN and government departments could use as education and healthcare facilities, helping to remove them from dangerous situations and abusive relationships.
With flexible hours to fit with childcare, the women are paid to take initiative and to be entrepreneurial, with a basic salary plus incentives.
"When I first came, a lot of the women couldn't even look you in the face. They were so terrified of anyone perceived to be in a position to influence. But now they are cheeky as hell," said O'Reilly.
Late to the party
Taprobane is aware that Sri Lanka has come relatively late to the shrimp production party.
But O'Reilly also sees the benefits of that, having learned from others' mistakes in terms of stocking densities and biosecurity.
The company is also operating in a country with highly developed and strict environmental and labor laws, all written in English, a rare benefit of its colonial past.
"Nike and Victoria's Secret have their biggest production bases in Sri Lanka," said O'Reilly, who explains there are strict social laws, with no migrant or child labor tolerated.
The industry is also on the cusp of change, with 95 percent of its farmers now fully converted to vannamei farming.
"There's an automatic benefit for the farmers because we're getting so much more shrimp from the same infrastructure," said O'Reilly.
By the end of the year, O'Reilly says Taprobane will have 1,000 acres of farming under its own umbrella, either as its own farms, long-term leases or joint ventures.
This mixed model of production sets Taprobane apart from other Asian producers, but it is a conscious strategy to mix up its sourcing, in part to not monopolize the industry, but also to have overview and influence over what is being produced.
"I feel like moving forward that it's going to be a lot better for our business to have at least 50 percent of our supply coming from our own farms. In India, I watched Avanti and all these guys suddenly go from feed to processing or processing to feed and then to hatchery and now they're all trying to get farms."
"Because the market wants this. It wants you to develop small-scale producers, but it also wants 100 percent traceability, 100 percent transparency," he said.
As for what the US market wants, O'Reilly describes it as the "elephant in the room."
"When we get big enough we need to be there. So we need to work it out," he said, adding that how its shrimp will be represented, what price will demand and whether its story will be told all comes into play.
"This is a great time to support Sri Lanka, which has been going through well-publicized economic and political struggles. Over the next two years, we plan to employ 2,000 more female operators, and we can only do this with the support of our customers," said O'Reilly.
"As an industry, I don't think we communicate how much positive impact we have on developing countries. We need to be competitive on price, and we need certifications. Still, we also have some powerful stories that, if we can communicate to the consumer, I'm sure will drive sales and ensure transparency and equity throughout the supply chain."