A return to black tiger shrimp production could be part of the solution to the potentially devastating challenges facing India's shrimp farmers, but first markets must be reignited, according to Manoj Sharma, a producer and past president of the Gujarat Aqua Feed Dealers Association.
The sector, which has been facing serious problems related to slow growth and mortality since around 2017 when the first glimpses of a downturn were identified, is now also being crushed upstream by spiraling costs.
Overstocking and a lack of understanding about the carrying capacity of the environment has been compounded by rocketing energy, feed and logistics costs due to the pandemic and Russia's attack on Ukraine, and now producers are experiencing low survival rates and unsustainable costs of production.
Gujarat, on the country's west coast, is facing a particularly magnified set of these challenges.
'The post-COVID cost of production has increased by 25 percent," Sharma tells IntraFish. "The price of feed is up 25 percent, the price of fuel 22 percent and sea freight is up 200 percent -- all this has left the industry in a lot of trouble."
Gujarat, India's second-largest shrimp farming region after Andhra Pradesh, is being driven out of business by an average cost of production of INR 317 (€3.98/$3.97) per kilo for 30/40 count shrimp compared to INR 267 (€3.35/$3.34) in Andhra Pradesh, thanks to higher seed, feed, diesel and electric costs outside the state.
It's a starkly small margin when you look at today's shrimp prices.
"Return on investment should be at least 40 percent for shrimp farmers," said Sharma.
The final straw?
It has not always been this way.
India's initial switch from black tiger (penaeus monodon) shrimp to white (vannamei) shrimp around 2009 began a golden era for the country, with the fast-growing, apparently hardy species sending production volumes soaring and quickly pushing India to pole position in the lucrative US market.
Black tiger shrimp (penaeus monodon) versus vannamei
Growth rate: Vannamei can grow as fast as monodon up to 20g and typically grow faster (1-1.5 g/week) than monodon (1g/week), but growth rate slows after reaching 20g, making production of large-sized shrimp slower.
Stocking: Vannamei are easier to culture in very high densities (typically 60-150/m2, but up to 400/m2) than monodon, which can be aggressive. But very high stocking densities require high control over pond/tank management practices and is a high-risk strategy.
Feed: Vannamei require lower protein feed (20-35%) than monodon, resulting in a reduction in operational costs and amenability for closed, heterotrophic systems. Food conversion ratios (FCRs) are lower at 1.2 compared to 1.6.
Temperature: Although vannamei will tolerate a wide range of temperatures, they grow best between 23-30 deg C, with the optimum for growth being 30 deg C for small (1g) and 27 deg C for larger (12-18g) shrimp. They will also tolerate temperatures down to 15 deg C and up to 33 deg C without problems, but at reduced growth rates. This greater temperature tolerance of vannamei may also be a reason why farmers have perceived this species to be more resistant to white spot syndrome virus relative to monodon. However, recent experience in Thailand, Ecuador and elsewhere has shown that when water temperatures decline to less than 30 deg C, increased problems with viral diseases occur not just with monodon, but equally with vannamei.
Markets: Vannamei are generally preferred in the US market over monodod due to taste, but there is strong local demand for white shrimp in Asia. Meat yield is higher for vannamei (66-68%) than for monodon (62 percent), but monodon can grow to a larger size, commanding a higher price than vannamei. There is also high competition on international markets for vannamei as production is worldwide.
Source: FAO
Its volumes continued to grow exponentially for close to a decade, but as with Thailand before it, overstocking became its downfall, with world events now conspiring to potentially act as the final dose of poison for an already ailing industry.
"Since 2010, every year around 100,000 metric tons of shrimp has been added. Now it's close to 1 million tons. For many that makes them happy, but for me this actually scares me a lot as the percentage of success has gone down significantly," said Sharma.
Disease is a universal issue with the industry, Sharma adds, noting that by 2020 some 85 percent of ponds were affected by disease, leading to a massive crash in harvests and shock throughout the farming community.
A tale of two shrimp
In 2009, vannamei offered a range of advantages while, conversely, black tiger was a risky business. Although the product had a strong market in Europe, problems with seed quality led to the increasing appearance of the white spot syndrome virus and monodon baculo virus and subsequent poor growth.
Vannamei, on the other hand, offered specific pathogen-free broodstock, high production per hectare, low cost production and a market ready to accept all sizes.
Today, black tiger has a better billing.
A new strain of fast-growing specific pathogen-free seed is now available, and as a species native to India, black tigers are far better suited to India's high summer water temperatures and winter and monsoon lows. It also potentially offers better margins in an extensive farming environment and provides differentiation in a market where Ecuador currently rules the roost.
Sharma is enthusiastic, but cautious in equal measure because while monodon offers significant hope, traditional markets in Europe and Japan have over the last 10 years fallen away, leaving a need for marketing investment and a conscious search for new customers.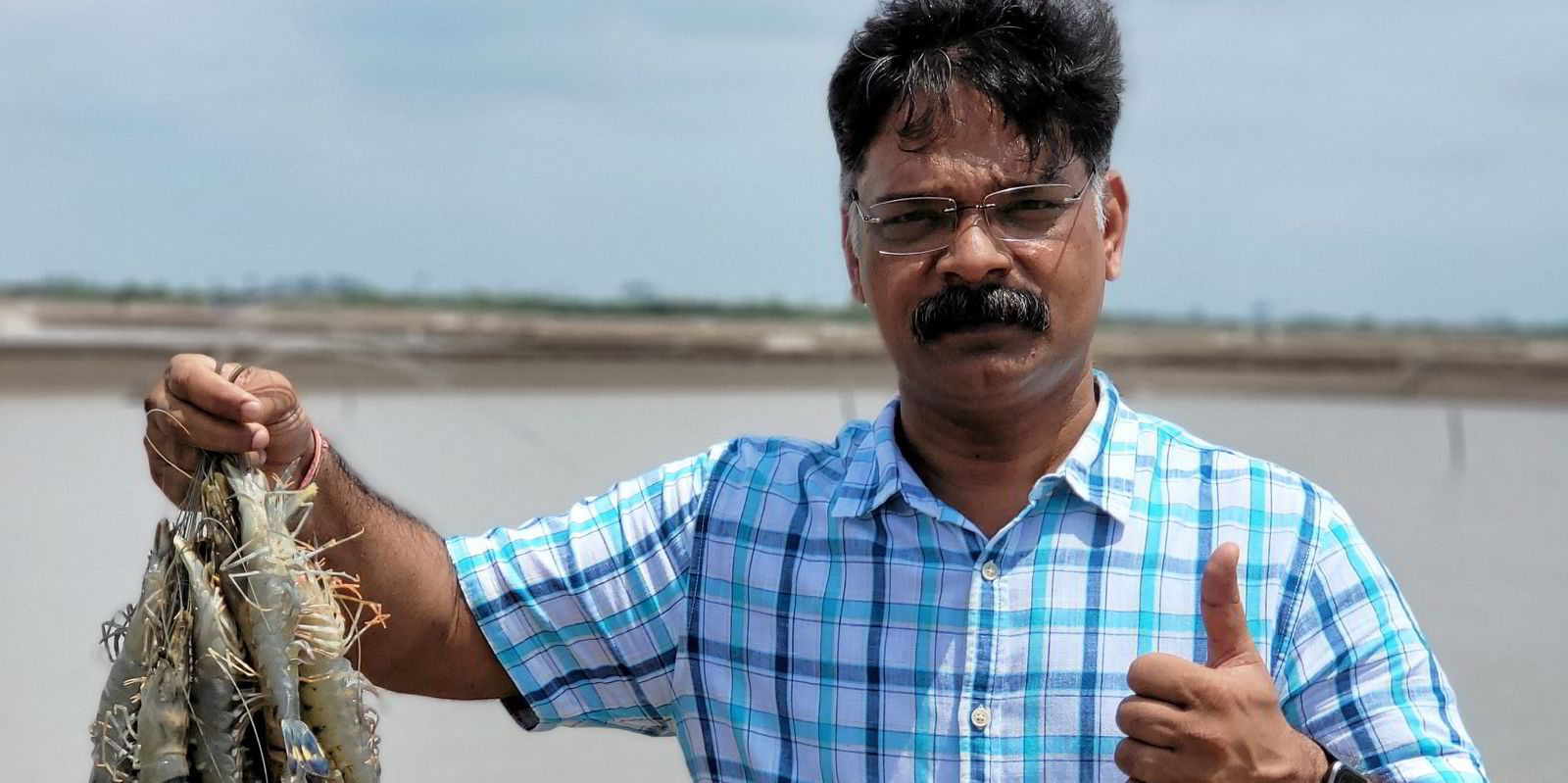 "The last 10 years all focus has been on vannamei markets. If we suddenly produce 100,000-200,000 tons of monodon next year, it is not going to go well," said Sharma, citing the size of the global monodon market as "hardly 100,000 tons," with 80 percent of that already being supplied by a selection of producers in Vietnam and Bangladesh.
The Indian government has been aggressive in its aquaculture investment in recent years. If a fraction of this investment could be directed towards expanding black tiger markets, not least domestically, it could offer real hope for a new shrimp farming future for India.
Done the right way, gradually, and in an extensive farming environment, Sharma believes that black tiger could offer significant new roads for India: "I believe it could change the face of Indian shrimp farming."
Want more Aquaculture? Get the newsletter
Stay on top of the aquaculture industry with our free newsletter.