The scrapping of China's zero-COVID 19 policy has prompted some countries to reintroduce restrictions and test requirements for ship crew from China and other Asian nations, according to the Global Maritime Forum (GMF).
Ship managers say the recent ease in restrictions in China is simultaneously both "encouraging and concerning," the Copenhagen-based body said.
A recent spike in COVID-19 cases has also raised concerns that it creates conditions for new variants to develop.
"While China repeals restrictions, other countries, including India and Japan, implement new test requirements and restrictions for seafarers arriving from specific Asian countries because of the rise in infections," the GMF said.
Ship managers say a negative RT-PCR test conducted 72 hours prior to departure is now required for all travelers from China, Hong Kong, Japan, South Korea, Singapore, and Thailand when entering India.
Similarly, Japan requires all travelers coming out of China within the last seven days to be tested on arrival. If tested positive, seafarers face being quarantined for seven days.
"Furthermore, it remains somewhat unclear how aligned different local governments in China are with the new instructions from the central government," the GMF said.
Therefore, it advises that crew changes must therefore still be "carefully reviewed by local agents to ensure compliance."
In terms of vaccination rates among seafarers, the GMF said 95.6 percent of seafarers sampled have been vaccinated as of the fourth quarter of 2022. This corresponds to an increase of 2.7 percent since October.
In comparison, the share of the population fully vaccinated against COVID-19 in the European Union is 75.5 percent, in Hong Kong 90.7 percent, in Japan 83.3 percent, in Singapore 90.8 percent and in the US 69.1 percent.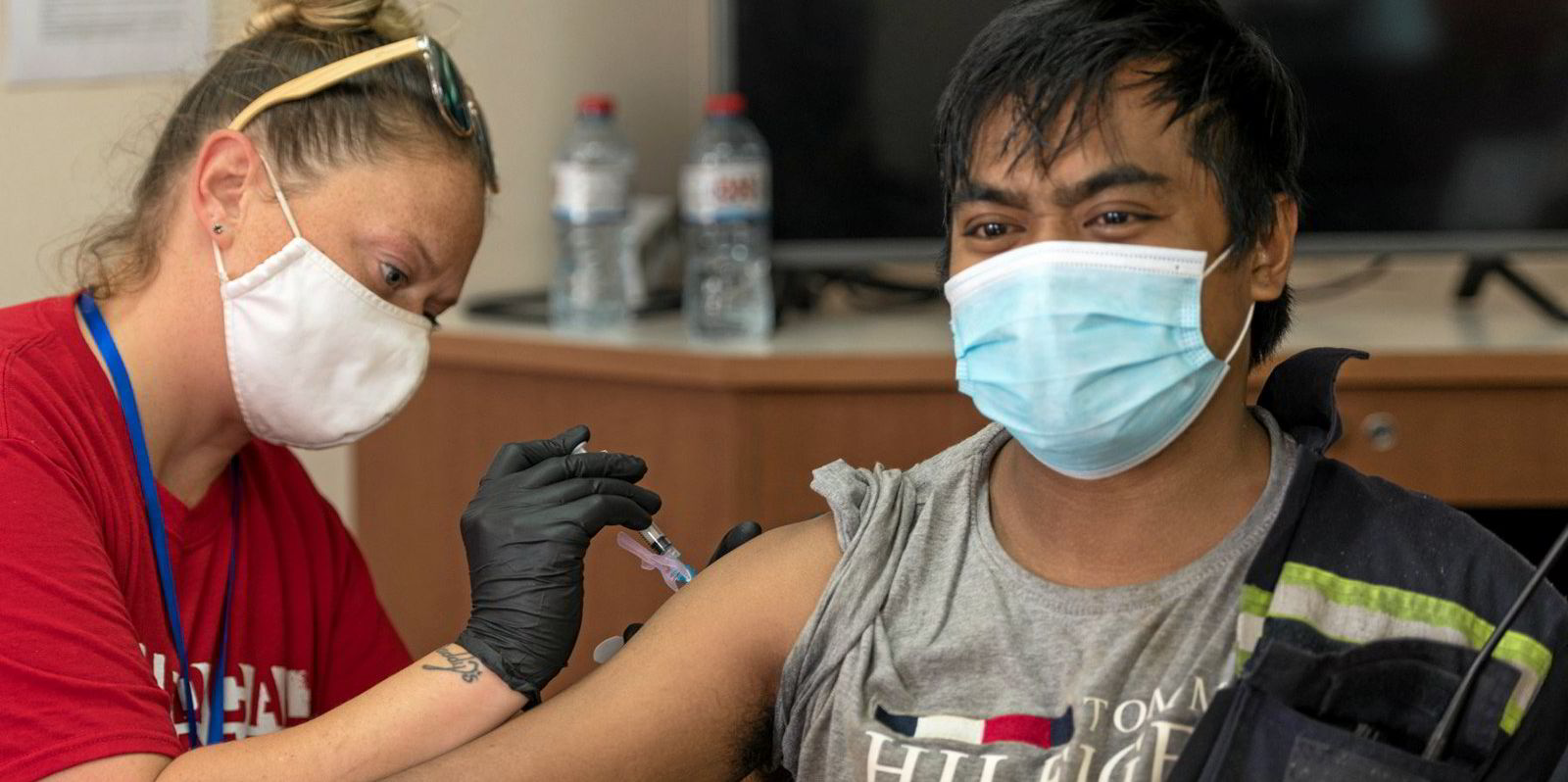 "Seafarer vaccination rates thus remain higher than the share of the population fully vaccinated against COVID-19 in many large shipping nations," the GMF said.
"It must be noted however, that national percentages are based on the full population and include children, who in most countries are not offered vaccines so the numbers are not fully comparable."
Some ship managers report that they are increasingly opting to replace unvaccinated crew members onboard with vaccinated seafarers through normal crew changes. This allows for seafarers to be vaccinated while onshore.
Some companies are also no longer recommending their seafarers renew or boost "expired" vaccinations, seemingly because of a lack of effectiveness in existing vaccines.
Instead, they recommend using updated vaccines going forward, in case new and more dangerous variants emerge, the GMF said.
Separately, the GMF's Neptune Declaration Crew Change Indicator showed that 2.7 percent of seafarers are still stuck onboard vessels beyond contract expiration as of the fourth quarter of 2022.
The number of seafarers kept from disembarking is the lowest since the Crew Change Indicator was introduced in May 2021, the GMF said.
At the same time, the percentage of seafarers onboard vessels for more than 11 months fell to 0.2 percent, a decrease of 0.1 percent since the October indicator.
"The numbers trend in the right direction, but the figures still represent thousands of seafarers, who can't get to work or journey home, as they were supposed to," said Susanne Justesen, the project director of human sustainability at GMF.
"The fundamental issues of seafarers not being treated as key workers also hasn't changed, which will be a global problem if the pandemic resurges or when we face a similar problem in the future."