Friday, August 21, 1:30 pm PST
Southeast pink fishing closes early due to poor catches
Southeast Alaska's pink catch is down 31 percent from 2018 and well below historical levels.
The low return prompted fishery managers to end harvest opportunities earlier than usual for the high-volume fleet in this area, the Ketchikan Daily News reports.
Statewide, nearly 47 million pinks have been harvested for the year to date (YTD), which remains 30 percent ahead of the comparable year, 2018. The harvest is also 37 percent ahead of 2016, reports Garrett Evridge with the McDowell Group.
Pink salmon from Prince William Sound (PWS) has contributed around 43 percent of that total, with landings nearly identical to 2018.
Kodiak topped its preseason harvest projection by about 4 million fish with YTD production of nearly 16 million pinks.
Harvests in AK Peninsula & Aleutian Islands and Cook Inlet are ahead of 2018 and longer-term averages.
The average weight of pink salmon in 2020 for most major harvest areas are consistent with the 10-year average. Fish from AK Peninsula & Aleutian Islands are the exception. Pinks from the region have averaged 2.75 pounds in 2020, lower than the 10-year average of 3.13 pounds.
---
Tuesday, August 11, 2:40 pm PST
About 84 million Alaska salmon have been harvested in 2020, according to Garrett Evridge with the McDowell Group.
Nearly 400,000 sockeye were harvested last week. About 160,000 came from the Kodiak region and at least 120,000 sockeye were harvested in Bristol Bay. Other modest volume trickled in from Southeast, Cook Inlet, and the AK Peninsula and Aleutian Islands region.
About 34 million pinks have been harvested year-to-date, which is now 12 percent ahead of the 2018 season during this time period, according to Evridge. But it still remains behind 2020 projections and is not likely to meet those projections.
Kodiak and Prince William Sound contributed about three-quarters of the nearly 10 million pinks harvested last week. Pink harvests continue to lag in Southeast, however.
---
Tuesday, August 4, 2:00 pm PST
Pink production lags
Alaska's production of pink salmon for the year totals to about 23 million fish, still far behind ADF&G's prediction of 61 million fish for this year for the species.
The current pace is nearly identical to 2018 and 2016, said Garrett Evridge with the McDowell Group. Prince William Sound (PWS) has supplied about half of that production so far.
Sockeye salmon production, meanwhile, continues to soar above its predictions, with 44 million fish harvested as of Tuesday.
---
Friday, July 31, 2:00 pm PST
The last data update (for a while)
There have been a little over 39 million sockeye salmon harvested in Bristol Bay, which is around 14 percent above what was predicted for this year. At 57.9 million, the Bristol Bay salmon run is also around 18 percent bigger than initially predicted.
ADF&G said Friday it released its last daily run summary for the bay, and will be releasing a season summary in September.
---
Tuesday, July 28 8:30 am PST
Fade to pink
The focus of Alaska's salmon harvest is shifting from sockeye to pink as Bristol Bay winds down. Although the season has improved significantly over the past four weeks, many areas of the state are behind historical averages, said Economist Garrett Evridge with the McDowell Group.
"The 2020 sockeye harvest is nearly complete," he wrote in an analysis about the fishery Monday. "While Kodiak, Southeast and other areas will see sockeye landings through September, less than 10 percent of the annual sockeye catch is typically harvested after statistical week 30."
Preliminary data from the Alaska Department of Fish and Game indicate the average weight of 2020 Bristol Bay sockeye are slightly more than five pounds, extending a trend of declining average weight for the species. Nearly 42 million sockeye have been harvested statewide, a pace 19 percent behind last year's record production, but on par with the 10-year average.
This week and next are typically the peak of the pink harvest, according to Evridge.
---
Friday, July 24 12:00 pm PST
An 'unprecedented' season
The number of sockeye salmon in Bristol Bay that have been harvested is nearly 38 million, which is nearly 10 percent more than what ADF&G initially predicted for the Alaska fishing district.
The 2020 season was unique in several ways, Curry Cunningham, a fisheries ecologist at the University of Alaska Fairbanks who researches salmon runs in Bristol Bay, told IntraFish.
While the Naknek River in particular saw record returns this year, the overall 2020 run was quite compressed.
"The string of nine days with daily catch and escapement exceeding 3 million salmon per day is unprecedented," Cunningham said in reference to earlier in July, when several processors in Alaska put fishermen on limits, just to keep up.
And the harvests were not equally spread among the bay's five fishing districts this year.
"District were more than balanced by higher than forecasted production in the Egegik and Naknek-Kvichak districts," he said.
---
Thursday, July 23 8:30 am PST
More prices, more disappointment
Local news site KDLG recently reported both Cooke-owned OBI Seafoods and Red Salmon have matched other processors in posting $0.70 cents per pound for sockeye.
Trident fishermen also confirmed bonuses of $0.15 for RSW, $0.05 for bleeding, and $0.05 for chilling, the news site confirmed.
One fishermen for Peter Pan told the news site those prices were "ridiculous," noting he could make more with unemployment, and was planning to sell his boat.
---
Wednesday, Juy 22 12:39 pm PST
Some major processors are finally posting base prices for sockeye salmon, and as suspected, they are much lower than last year's ex-vessel prices.
As the fishing season in Bristol Bay winds down, major processors have been paying fishermen base prices for sockeye sometimes well below last year's average of $1.35 (€1.18) per pound.

Read about some of the factors contributing to the low base price this year.
---
Tuesday, July 21 10:00 am PST
While Bristol Bay is up, everywhere else is down
While two weeks of strong fishing in Bristol Bay have lifted statewide totals, other areas of Alaska remain below expectations, said McDowell Economist Garrett Evridge.

Harvest of about 11.6 million sockeye last week brings the yearly total for the species to just under 38 million fish. Bristol Bay has contributed around 90 percent of the total, with the region exceeding the 2020 ADF&G projection of 34.5 million fish. Other sockeye fisheries are behind the typical pace, with Kodiak and the Alaska Peninsula and Aleutian Islands faring better than Prince William Sound, Cook Inlet, and Southeast.
The pink salmon harvest pace is similar to 2018 and slightly below the 10-year average (for even numbered years). The peak of the statewide pink harvest is typically the last week of July or first week of August. According to the ADF&G harvest projection, Prince William Sound will contribute the most pink production this year followed by Southeast and Kodiak.
---
Monday, July, 20, 12:00 pm PST
The Bristol Bay run is now over 50 million, and well above its 2020 forecast. The harvest in the bay has also exceeded its predictions at a little over 35 million salmon. There are still no official announcements posted on base prices for sockeye salmon.
---
Friday, July 17 3:00 pm PST
Bristol Bay run exceeds forecasts
While settled prices continue to elude fishermen and rumors of very low prices compared to last year's abound, the Bristol Bay salmon run is at least doing well. It has exceeded its predicted 2020 forecast of 48.95 million sockeye, with the run now above 49 million.
The harvest in the bay, which was predicted to be 34.56 million, should also be larger, Tim Sands with ADF&G told IntraFish.
---
Wednesday, July 15 2:00 pm PST
The harvest peak has (probably) arrived
Bristol Bay's surge in salmon recorded over the past week into weekend is starting to simmer.
"I think we are a little past the peak at this point," ADF&G Area Management Biologist Tim Sands told IntraFish.
Sands said the peak for salmon harvests likely occured July 5-8 when Bristol Bay fishermen were catching more than 2.5 million sockeye daily.
"I would say the run was a little compressed and we had the three big districts--Egegik, Naknek-Kvichak and Nushagak--all getting good numbers of fish at the same time," he said. "I don't think this time frame was necessarily the mid-point of the run, just that it was the peak of harvest."
Alaska researchers are still anticipating 15-20 million more fish in the bay, which would represent more than 30 percent of what has been reported so far, he added.
While the harvest slows down, and a clearer picture for the rest of the season takes shape, what fishermen will be paid for sockeye remains uncertain.
"Some people are pricing higher, some lower depending on what type of age they have on their fish," one major buyer recently told IntraFish.
--
Tuesday, July 14 8:00 am PST
Statewide salmon production lags despite record Bristol Bay week

The Alaska salmon fishing season is picking up thanks to Bristol Bay's record sockeye salmon harvests, however, overall statewide production still lags compared to previous years.
Last week, fishermen caught a total of 22 million salmon, almost double the entire harvest of the past two months combined, according to Garrett Evridge, an economist with the McDowell Group on behalf of the Alaska Seafood Marketing Institute (ASMI).
Statewide sockeye salmon harvests contributed to 83 percent of last week's fishing levels, bringing the current season within 20 percent of the five-year average, Evridge reported.
The Bristol Bay season is now just one-third behind last year's considerably strong season, slightly below the five-year average, and slightly above the 10-year average.
The regions were sockeye fishing improved most include Kodiak, AK Pen and Aleutian Is, whereas fishing remained slow in Cook Inlet, Southeast and Prince William Sound (PWS).
This season's 4.9 million pink harvests is double the pace of 2018, with PWS contributing by 60 percent, followed by AK Peninsula and Aleutian Islands.
Year-to-date chum salmon (keta) harvests are at the lowest levels in a 15 year period, down 60 percent compared to 2019 and the five-year average.
The current week is usually the peak for chum salmon harvests, though historically, strong fishing does increasingly occur throughout the end of August, Evridge reported.
---
Monday, July 13 2:06 pm
The sockeye harvest is surging above last year's
While Bristol Bay processors such as Leader Creek, Trident and others have lifted limits set over the past weekend on fishermen, the Bristol Bay run is continuing to see record amounts of fish.
Total escapement across the bay is now 10.4 million fish, only 2 million fish short of the pre-season escapement goal baywide, according to the local news site KDLG.
"It was anticipated," David Harsila, president of the Bristol Bay Fishermen's Association (BBFA), told IntraFish of the limits, noting processors are all under pressure with social distancing requirements reducing staffing levels.
The Naknek fishing district has exceed its escapement goals, with the Nushagak approaching its escapement goals, Tim Sands, an area management biologist with ADF&G told IntraFish.
The Wood River and Egegik are approaching the mid-level of their escapement predictions, he added.
The Igushik, Togiak and Ugashik and Kvichak are below their goals, but they are typically part of a later run timing, he said.
---
Friday, July 10 10:35 am
Fishermen put on limits
Alaska sockeye salmon processors are putting limits on what they are able to buy from fishermen in Bristol Bay due to a surging harvest in recent days.
On July 6 there were 3 million sockeye caught, the second-largest daily harvest since at least 2012, a much-needed boost for a season that began with far lower catches than usual.
Local news site KDLG reported those limits for Peter Pan currently being between 4,000 and 5,000 pounds.
"Instead of being long and drawn out the salmon showed up all at the same time," Tom Rogotzke, who is currently fishing in the Nushagak district, told IntraFish. "We haven't been on limits like this since 2017."
Data released Thursday from the Port Moller test fishery shows the Bristol Bay run "is 4-6 days late and greater than 50 million."
But is the market ready for all of this salmon?
---
Wednesday, July 8 9:56 am
The running of fish
ADF&G Area Management Biologist Tim Sands summed up the excitement surrounding Tuesday's record fishing.
"The bulls may not be running in Pamplona today, but the sockeye seem to be running in Bristol Bay," he said of data that showed the first million-fish harvest of the season happened in the Egegik. It was the second biggest daily harvest since 2012, according to the BBRSDA.
Local news site KDLG provided an excellent breakdown of the numbers for July 7, with the total run across the bay jumping to 15.5 million fish.
There is still a lot of catching up to do, however, according to Garrett Evridge, an economist with the McDowell Group. He reported the statewide harvest of about 9.7 million sockeye is 56 percent behind where 2019 was at during this time period, and 62 percent behind the 5-year average.
"The deficit is improving though, due primarily to Bristol Bay," he said. "The current week is typically the peak for Bristol Bay production, though early empirical research indicates a late salmon return. Most other sockeye-producing regions have improved from last week but generally lag historical levels."
Luckily for the bay, the fishing area remains a ways away from its peak, according to Sands, who said the high point of the fishing season is still about a week away.
Port Moller data shows more fish being available on the bay's eastside than in the Nushagak, he said.
---
Monday, July 6, 4:09 pm
Bristol Bay picks up...kind of
Sockeye salmon harvests in Bristol Bay have begun to pick up. The latest reports from the Alaska Department of Fish & Game (ADF&G) show increasing catches and escapement in both the East and West side of the bay, but harvests are still dramatically off historical timelines.
Through Sunday, around 2.43 million sockeye were harvested on Sunday, for a cumulative total of 8.43 million.
Together with the amount of fish moving up into the lake systems to spawn (called escapement) and the estimate of fish in the river, the total estimated run is now just over 11.4 million fish.
---
Thursday, July 2, 9:29 am
Not much salmon for July 4
Domestic retail and foodservice buyers are still eager to offer fresh Bristol Bay salmon to customers, but some are wary of committing to specific volumes in a season already off to a rocky start, and a spike in coronavirus cases across the country.
"The foodservice sector is a bit of a moving target right now," Matthew Davis, a buyer with Santa Monica Seafood, told IntraFish.
Read what Davis and other buyers had to say about this year's slow salmon season.
---
Wednesday, July 1, 3:30 pm
Pressure is building
While the total sockeye salmon run in Bristol Bay has reached nearly four million, according to July 1 data from ADF&G, the fishermen remain weary.

"This year's concern is run timing and volume," longtime Bristol Bay Fisherman Michael Jackson, told IntraFish. The issue is whether the fish will arrive so late and so quickly in July, that the salmon run will, as a result, be compressed.
This will overload processors, who will have to run millions of pounds of fish all at once through their plants, he said. A salmon run where the fish arrive late and all at once also puts pressure on fishermen in the bay.
"You have to hit a home run everywhere you go every day," he said of the fishing expectations. Jackson has already switched from fishing in the Nushagak district to another area because the catches were so small and the fishing district was loaded with boats.
Cold water temperatures and confusing data coming out of Port Moller are also an issue, according to several fishermen.
"It's just very very slow for the time of year. We should be almost peak fishing beginning of July but we aren't even close," Tom Rogotzke, who catches and sells the salmon through his Minnesota-based company, told IntraFish.
---
Tuesday, June 30, 10:30 am
Bristol Bay is still way behind
The 2020 Alaska salmon season continues to lag behind previous years, according to Garrett Evridge, an economist with the McDowell Group.

The harvest in Bristol Bay has been particularly slow with production down about 80 percent from 2019 — but ahead of 2015 and 2016.
Although data may be revised higher with the season still in its early stages, year-to-date sockeye landings are more than 70 percent lower than 2019 and the five-year average.
The total run in the bay has passed 2 million, Alaska news site KDLG reported Monday. The run in the Naknek-Kvichak District is just starting to pick up, and the harvest so far is bigger than last year. the news site said.
About 5.8 million fish have been landed so far this season; nearly 14 million fish had been landed at the same point in 2018.
---
Monday, June 29 10:37 am
There have been around 1.1 million sockeye salmon harvested in Bristol Bay through this past Saturday, according to Tim Sands with ADF&G.
The Nushagak fishing district, which opened later than others this year, is also tracking upward.
The total run for the bay as of Monday is around 2.4 million, with Nushagak accounting for more than half of the salmon showing up.
"The escapement in the Nushagak District rivers is ahead of expectations for sockeye salmon but behind for king salmon," Sands told IntraFish.
Overall, the salmon run--which is predicted to reach 48.95 million sockeye, is tracking about two days behind schedule, according to Alaska Data Scientist Curry Cunningham.
---
Friday, June 26 1:23 pm

Times are still slow, but some fish are arriving
Fishermen in the Naknek River have harvested an estimated 95,000 fish as of Thursday, and fishermen in the Egegik fishing district have harvested 210,000 fish, as those districts have been open to commerical fishing since June 1, according to ADF&G.
The Nushagak fishing district also held its first opener Thursday.
"The Nushagak king salmon escapement is below expectations," ADF&G Scientist Tim Sands told IntraFish of the delay in opening the section. "It is unclear if it is because the run is late or weak or both. It is early to say much about most escapements but things are going well in the Nushagak except for kings."
Monte Peters, a production manager with Bristol Bay processor Leader Creek Fisheries, told IntraFish things are off to a slower start than last year.
"We're usually full-swing by now, but we're running a week or so behind what 'normal' is," he said.
--
Wednesday, June 24 1:23 pm
Cooke-Ocean Beauty workers test positive
Seasonal workers at the newly formed Cooke-Ocean Beauty joint venture preparing for the Bristol Bay wild salmon season have tested positive for the novel coronavirus, sources told IntraFish.
The 12 workers, who were slated to work at OBI Seafoods' Wood River salmon processing operation in Dillingham, Alaska, were reported infected on Monday, June 22. The tests were conducted on the sixth day of their quarantine period, according to the City of Dillingham, which reported the cases but did not name the companies involved.
--
Tuesday, June 23 2:23 pm
Get low
Salmon harvests throughout Alaska are generally below expectation, with statewide landings the smallest in at least 12 years, according to Garrett Evridge, an economist with the McDowell Group.
Sockeye landings of about 640,000 fish are 75 percent lower than the same time in 2019 when more than 2.5 million fish had been harvested. All Alaska fishing regions are slow against prior years with the Copper River salmon harvest down sharply, according to the report.
While the Copper River salmon season has sputtered along, fishing in Alaska's Bristol Bay fishing district is ramping up.
"Between the pandemic and what we hope is a late return, it has been a challenging 2020 harvest to date," Jim Kostka, marketing manager for Copper River Seafoods, told IntraFish. "We all have our fingers crossed that Mother Nature is just running late this year. Having The Upper Cook Inlet and Bristol Bay fisheries coming in line will certainly help!"
The Bristol Bay area is divided into five management districts--Naknek-Kvichak, Egegik, Ugashik, Nushagak, and Togiak.
Data from the Port Moller test fishery, which experts say typically is a good indicator of the Bristol Bay run strength, is starting to be collected for the season as well.
---
Wednesday, June 17 10:59 am
Is climate change a factor?
ADF&G is projecting a harvest of 132 million salmon in 2020, a level similar to other even-numbered years, McDowell Group's Garret Evridge said in his latest report on the season.
"The pink harvest is expected to be on the lower-end of recent even-numbered years,"he said. "The projected sockeye harvest is below the 5-year average but higher than the 10-year average."

According to Evridge's data, ADF&G predicted there would be 88.1 million sockeye harvested through 2020. So far, fishermen have caught 189,000 fish, which is less than 1 percent of that amount.
"The 2020 Alaska salmon season is off to a slow start, but it is too early to draw any conclusions," he said. "In an average year less than 10 percent of the annual harvest occurs in May and June. Harvests typically expand modestly over the next two weeks before climbing sharply in early July."
Climate change could also be contributing to the slow season.
The Anchorage Daily News recently reported that Western Alaska, where Bristol Bay is located, had one of the warmest Mays on record, and that water temperatures remain above-average into June.
A PWS scientist told IntraFish in May rising ocean temperatures could also be negatively impacting fish health.
ADF&G's Tim Sands told the Alaska Journal this week the Bristol Bay season seems to be starting off normally, though there are a low number of kings reported in the water.
Andy Wink, president of the Bristol Bay Regional Seafood Development Association (BBRSDA), told the journal he expects softer market prices for the fish, given the increased costs coronavirus logistics are causing processors as well as the lack of foodservice this year.
---
Wednesday, June 10, 4:54 pm PST
Bad news bears
The Copper River will not have any openers this week, following news that its sonar count for salmon remains dismally low.
ADF&G reports the Copper River's sonar count is the 12th lowest since it started keeping records in 1978. The Copper's commercial harvest is also, so far, the third-lowest in the past 50 years.
"There are many things that could have led to the low run this year," ADF&G's Jeremy Botz told IntraFish. "Some of these include freshwater spawning densities and rearing conditions, forage availability, competition with other fish, ocean temps."
The state agency is not sure yet what is primarily driving reduction in salmon in the fishing district this year, he added.
---
Thursday, June 4, 2:23 pm PST
Things are bad, but they have been worse
Longtime Cordova Fishermen Bill Webber recently posted on his blog that "it is merely getting too late to say the salmon are late in the 2020 early return to the Copper River."
This week is the second in a row that fishermen in Prince William Sound were only allowed one fishing period during the week versus having two.
Despite this year's season ranking somewhere in the bottom 10 of commercial harvests dating back to 1969, it's still better than it was two years ago.
In 2018, the season shut down after three commercial fishing periods, and was the second-lowest harvest recorded over the past 50 years, according to ADF&G's Jeremy Botz.
"This year, we're definitely seeing a higher harvest in the individual periods," he said compared to what fishermen faced in 2018. "The sonar count is also doing better than 2018 at this point."
The market dynamics, which have continued to drop the price of Copper River salmon at retailers despite a lack of supply, are likely to improve by the July 4 US holiday, added Matthew Davis with Santa Monica Seafood.
"I don't know that I would call it a failure," he said of this year's season. "It was definitely on the sparse end of the openers I've seen over the last 15-20 years but definitely not the worst."
---
Wednesday June 3, 2:00 pm PST
Copper River's strange market dynamics don't bode well for Bristol Bay
What goes down, must go even further down?
Copper River prices have continued to stumble despite very low supply, and these bizarre market dynamics are concerning fishermen and buyers alike as it could signal to a lack of consumer interest in all Alaska salmon products this summer.
"Pricing is coming down even though there are very few fish in the market," Mac Paranto, the sustainability manager and buyer with Colorado-based Seattle Fish, told IntraFish. "People aren't too keen on purchasing a 5-7 pound sockeye for $100.00 (€89.55)."
While the season started off with its typically sky-high retail prices, ADF&G data from Monday's opener shows fishing has so far, been on par with the previous lackluster openers: fishermen hauled in over 31,000 sockeye, 832 king salmon, and made 412 deliveries.
With Bristol Bay fishing set to be underway in a few weeks, those same dynamics are unlikely to budge.
Some Bristol Bay fishermen are already predicting lower market prices for sockeye due to coronavirus-related challenges as well as a down economy.
"If I had to speak to price or make any sort of guess for this season I would mostly refer to the fact that COVID-19 has caused a lot of instability in the markets as a whole," Bristol Bay Fishermen Tom Rogotzke told IntraFish. "Processors are taking on increased cost for keeping their workers healthy and that cost will most likely be passed on to, or at least shared, with the fishermen."
While it remains unclear how Alaska salmon will compete in a US protein market that has been experiencing moments of "meat shock," he said he remains optimistic.
I'm always hopeful for a fair price and good fishing," he added.
---
Tuesday, June 2, 9:45 pm PST
Field hospital set up in Bristol Bay region
The charity organization Samaritan's Purse delivered an emergency field hospital to King Salmon, Alaska, to provide support in Bristol Bay if there is an outbreak of the coronavirus during the upcoming Bristol Bay salmon season.
"I think the fear just from the fishing season if somebody came in and got it into the community, there was just a lot of fear," Reverend Franklin Graham, a North Carolina religious leader who was instrumental in arranging for the field hospital, told KTVA news.
The facility will handle overflow COVID-19 cases if needed. The community health center in King Salmon has one clinic and a two-bed emergency room.
--
Monday, June 1, 1:00 pm PST
Not plenty of fish in the sea
Copper River's Monday opener, which was announced this past Saturday by Alaska fisheries officials, is moving slowly, according to fishermen in the area.
Copper River Fisherman Thea Thomas told IntraFish high winds and rough sees are making it difficult to fish effectively.
"My thought is that the harvest will be smaller for both reds and kings for this opener," she said.
A lack of product is not preventing retailers from reducing prices, QFC's Adam Branin told IntraFish.
"Costs are still high, but we are reducing our retail to $29.99/lb (€26.97/lb) on sockeye just to get it moving, as it's not selling as quickly as we'd like," he said.
---
Monday, June 1, 10 am PST
Bristol Bay season begins
Amid increasing news of coronavirus outbreaks in Alaska and throughout the seafood industry, the state's Bristol Bay Ugashik District opened to commercial fishing. The announcement is a bit of a soft opening for the fishery, longtime Bristol Bay Fisherman Michael Jackson, told IntraFish.
For the past fifteen years Jackson has sold his fish through his own company Fall Line Fisheries, and also sells to Trident Seafoods.
He said the season usually begins around June 15. More than half of all the sockeye caught globally come out of Bristol Bay.
---
Wednesday, May 27 1:22 pm PST
Sockeye soar in latest fish count, but season remains on shaky ground
The Alaska Department of Fish and Game (ADFG) has not announced another opener, but said it anticipates the next one being Monday, June 1. The catch reported from the May 25 opener was a meager 1,470 kings. The news for sockeye was much better, with 33,750 fish harvested.
That amount for sockeye, while seven times the amount caught in the second fishing period, is only a little more than half of what the state agency projected would be 60,050 sockeye salmon harvested by this time. ADF&G reported there were 448 deliveries from the Monday opener, which should provide some relief to weary buyers.
Unfortunately, the run will not provide enough supply to relieve high prices for sockeye, with US retailers and restaurants still asking for around $30.00 (€27.37) to $40.00 (€36.50) per pound for the salmon.
The Alaska state agency, which operates sonar to gauge the strength of Copper River sockeye runs, is seeing an uptick in its count of salmon, ADF&G's Jeremy Botz told IntraFish.
"But harvest numbers were well below anticipated, so we decided to hold off on a Thursday opener," he said.
The agency's cumulative sonar count through Tuesday was 26,991 fish, only 39 percent of the fish ADF&G projected would be counted by this date.
---
Tuesday, May 26, 9:52 pm PST
Climate change to blame?
"We had record warm air temperatures last year in the interior of Alaska and that led to glacial melt that was unprecedented," said one researcher who is studying Copper River salmon migration patterns. That's not the only environmental concern that could change the future of the run.
---
Tuesday, May 26, 3:50 pm PST
Brighter days may be ahead
For Thea Thomas, who has been commercially fishing in Cordova for 35 years, Monday proved a better day than previous openers for catching sockeye, which she sells to Trident Seafoods for distribution.
She noted, so far, sockeye have gone for about half the price they fetched last year, largely because foodservice around the United States remains slow.
"We're all just really hopeful, as restrictions are lifted down south, and some restaurants will open up, the market for our fish expands a bit," she told IntraFish.
---
Tuesday, May 26 8:26 am PST
Here come the sockeye
Monday's opener was a little better than previous ones, according to eager retailers. Mac Paranto, the sustainability manager and buyer with Colorado-based Seattle Fish, told IntraFish he finally secured some Copper River sockeye for the Rocky Mountain Whole Foods region for between $16.00 (€14.68) and $17.00 (€15.60) per pound.
QFC's Adam Branin told IntraFish while fishing was much better than the previous openers, the catch has shifted to an abundance of sockeye with very few kings.
"Costs are still high, same as before, so we expect no retail changes," he said.
One Cordova-based fishermen said his haul was so good Monday he did not want to publicly share the details, but that the fish he caught were mostly sockeye.
"A cold spring, weak tides and frozen low water movement on river seems to have caused a slower start to the fishery," the source said, but added the fish were "nice-sized and beautiful."
Copper River Fisherman Bill Webber posted happy news Monday when he filmed icing some of his 100-plus catch from the fishing day on Facebook.
---
Tuesday, May 26, 6:00 am PST
More coronavirus cases

The number of COVID-19 infections among out-of-state workers in Alaska rose again over the holiday weekend, with two more employees testing positive.
With the Alaska's largest fishery in Bristol Bay set to open in less than a month, the seafood community and nearby residents remain anxious.
The cases come days after a Peter Pan Seafoods worker in Valdez tested positive for the coronavirus. It was that city's first case.
---
Friday, May 22, 12:28 pm PST
Fishing resumes
The Alaska Department of Fish and Game (ADFG) officials announced there will be a third opener for Copper River fishermen on Monday, May 25. Preliminary harvest estimates from the 12-hour period that previously occured was 1,700 chinook and 4,550 sockeye salmon, with 411 deliveries reported. The sockeye salmon harvest is at a dismal 16 percent of what was initially estimated, according to ADFG.
"The sockeye salmon harvest in the first two periods was well below anticipated," Jeremy Botz, an area management biologist with ADFG, told IntraFish. "It was a cause for some concern, which is why we did not have an opener on Thursday."
He said the May 25 opener should provide a better idea of how the fishing season will proceed.
---
Friday, May 22, 12:28 pm PST
Pricey and scarce

Despite the disappointing fishing season so far, Eater Seattle reports several restaurants and spots around the Washington state city are at least getting in fish. It remains pricey though.
---
Wednesday, May 20, 2:47 pm PST
What's holding up Copper River salmon this year?
That is the question researchers, commercial fishermen and eager buyers and consumers are all asking right now with severely poor fishing reported for the season's first two openers.
Researchers at Prince William Sound Science Center say fish size and other factors such as energy reserves (fat), pathogens and other physiological stress factors could be impacting the salmon from returning to spawning grounds.
Longtime fisherman Bill Webber posted recently on his blog about this year's fishing season: "I cannot remember a season startup that has started this slow with sockeye run entry back into the delta."
---
Tuesday, May 19, 2:15 pm PST
No salmon means stubborn prices
Don't expect more Copper River salmon in retail stores anytime soon. Adam Branin with QFC told IntraFish sky-high retail prices are not budging because of the weak early-season harvest.
The preliminary harvest estimate from the 12-hour period that occurred on Monday is 1,700 Chinook and 4,550 sockeye salmon with 411 deliveries reported. This compares to a projected harvest of 28,590 sockeye salmon for this period.
The next commercial opening for Copper River is expected to be Monday, May 25, said the Alaska Department of Fish and Game.
---
Monday, May 18, 2:52 pm PST

It's 'scary slow'
Longtime Cordova fishermen Bill Webber said fishing on Monday remains "scary slow."
He noted as of 2 p.m. Alaska time, his crew had five fish onboard with a few hours left in the fishing period.
"It's looking pretty slow. Boats are running east, west, south searching," he said. "I've never seen a season start up this slow in my 53 years."
---
Monday, May 18, 10:46 am PST
---
Monday, May 18, 9:53 am PST
Hospital workers enjoy salmon
More than 200 Seattle hospital workers enjoyed the salmon over the past weekend. Washington state was the first in the country to report COVID-19 cases, and continues to impose some of the stricter social distancing measures in the United States.
---
Friday 3:11 pm PST
Dismal reports from first opener
The Alaska Department of Fish and Game (ADFG) reported Friday the preliminary harvest estimate from the first opener was way down from what the state agency anticipated. It reported a harvest of 1,650 kings and 1,500 sockeye salmon with 335 deliveries reported. This compares to a projected harvest of 12,400 sockeye for this period, which means only 12 percent of that initial estimated was harvested.
The next opener is set for Monday, May 18 at 7 am PST.
---
Friday, May 15, 2:40 pm PST

US retailers receive first batch
Copper River salmon made its way to Seattle area QFCS where sockeye are selling for $34.99 (€32.39) per pound and kings for $44.99 (€41.64) per pound. This is slightly less than last year, when local news outlets reported the first king salmons available at $60.00 (€55.54) per pound.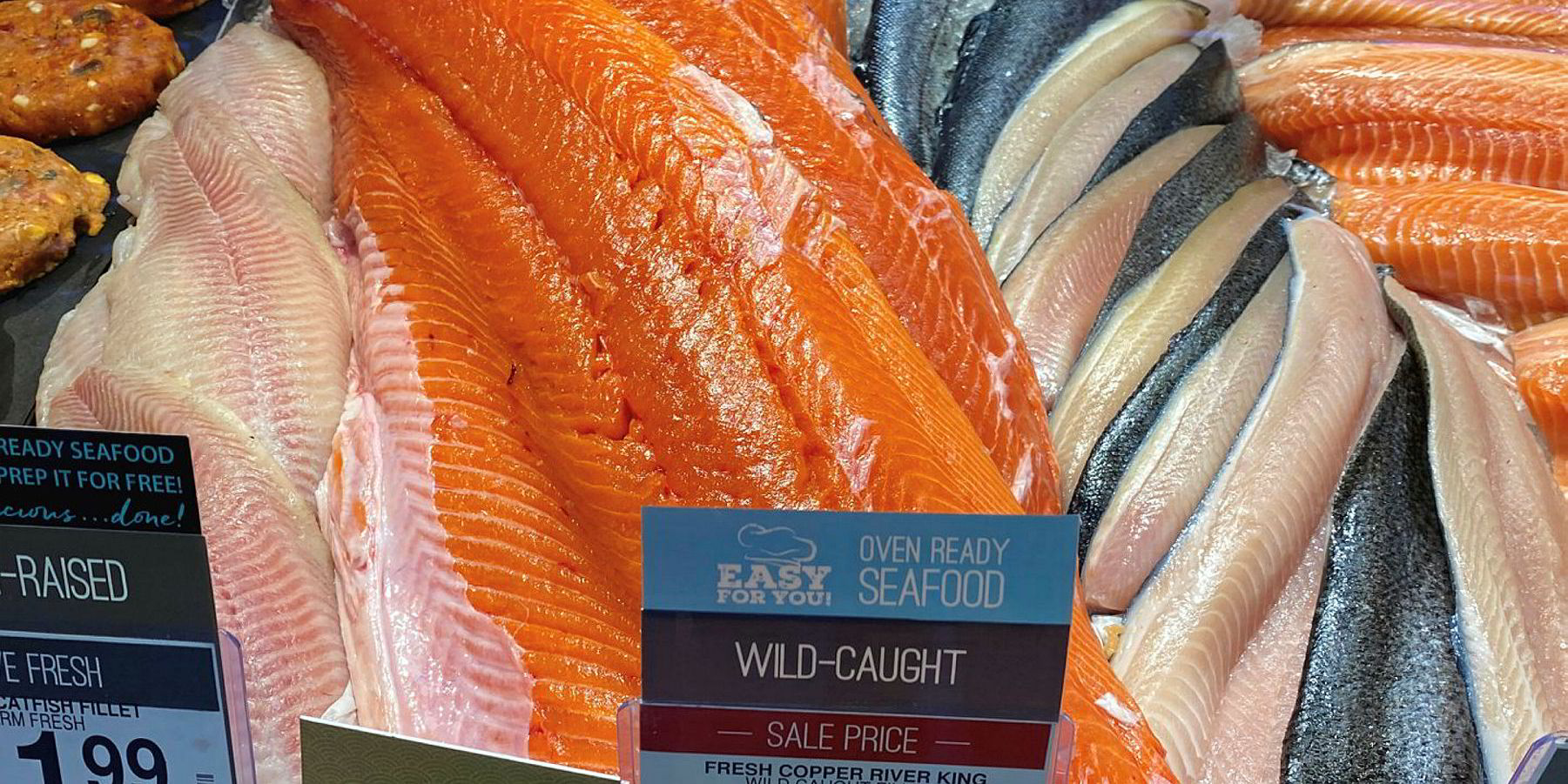 ---
Friday, May 15, 2:00 pm PST
'One of the slowest openers I've ever seen'
Several Alaska fishermen confirmed with IntraFish this week's Copper River opener was the slowest they have seen in their long tenures in Cordova.
"It was one of the slowest openers I've ever seen," said Peter Hoepner, a Cordova-area fishermen for 35 years. Hoepner supplies salmon to major companies such as Trident.
"Usually the first opener is slow, you never know what's going to come year to year."
John Weise, co-owner of Sixty North Seafoods, noted cold weather and ice are keeping water levels low.
"When the water level starts to rise, that's when the fish charge the river," he said. "If in two weeks, we're sitting this spot, then there will be something to worry about."
Weise and others are still expecting the state of Alaska to announce the next opener for next Monday.
----
Friday, May 15, 12:06 pm PST
Retailers awaiting fish
Alaska Airlines announced Friday the famed Copper River salmon will be available at QFC, Whole Foods, Haggen's, Town & Country, Thriftway and Metropolitan Market.
But Alaska Airlines has repurposed several of its aircraft to accommodate essential air cargo in recent weeks, and the changes are slowing some shipments, Adam Branin, a meat and seafood merchandiser with Kroger-owned QFC, told IntraFish.
"I should have fish to the Bellevue (Washington) QFC in about an hour," he said, noting it should be in about 33 Seattle-area stores by the end of today.
Mac Paranto, the sustainability manager and buyer with Colorado-based Seattle Fish, said the Rocky Mountain region has yet to get its hands on any of the prized salmon.
Paranto, who works with major retailers such as Kroger and Whole Foods, said he is so far unable to fill orders, even while working with eight different vendors.
He is also seeing higher prices for the fish.
"But that's to be expected with low catch rates and a slow start," he added.
One unique aspect to this year's season is the patience retailers and chefs are showing in waiting for the salmon.
"When it's not a pandemic you have chefs who are more demanding," he said.
Buyers such as Matthew Davis with Santa Monica Seafood also noted a limited catch so far, with an abundance of king salmon and very few sockeye.
He added spot pricing in Seattle for sockeye has been in the $10.00-$14.00 (€9.26-€12.96) range, and in the $18.00-$20.00 (€16.66- €18.51) range for kings.
---
Friday, May 15, 9:52 am PST
The salmon have arrived
Trident Seafoods CEO Joe Bundrant is masked up and live streaming the arrival of the year's first Copper River salmon.
"It's very different, but we are proud to support the first responders and Tom Douglas for helping to support Food Lifeline and the Seattle restaurant industry," Bundrant told IntraFish of the experience. "Thanks to Ocean Beauty for matching our donation of fish for the cause, to Copper River Prince William Sound Marketing Association for their support, and to Alaska Airlines for holding this event and continuing to provide excellent service."
Kiro 7 News Reporter Rob Munoz tweeted pilot Brent Carricaburu who delivered the fish, is also an Alaska fisherman.
"The first Copper River Salmon off the plane weighs 33lbs. Markedly different this year, there's no kissing of the fish," he tweeted.
King 5 Reporter Kierra Elfalan tweeted 9,000 pounds of Copper River salmon will soon arrived at the airport to feed more than 200 hospital workers.
---
Friday, May 15, 8:50 am PST
The first batch of Copper River salmon is on its way to the Seattle airport where Trident and Ocean Beauty are working with Chef Tom Douglass to prepare meals for area hospital workers.
---
Thursday, May 14, 11:15 pm PST
Low harvests predicted for sockeye
All indicators point to predicted low harvests, at least for sockeye, as reports from the grounds are that the first 12-hour fishing period that ended Thursday evening was slow.
"I anticipate the first period harvest will be well below average for sockeye, but I don't have a clear sense yet on Chinook salmon," Alaska Department of Fish & Game Area Management Biologist Jeremy Botz told IntraFish.
---
Thursday, May 14, 7:29 pm PST
First price reports are in
Copper River Seafoods has apparently announced ex-vessel prices of $3 per pound for sockeye and $6 (€5.55) for kings, Paradigm Seafood's Bill Webber told IntraFish after hearing it over his VHF radio.
This is a marked drop from last year's opening prices of $10 (€9.25) for sockeye and $14 (€12.95) for kings, despite predictions of a poorer catch.
"It was an extremely slow fishing period today. I have made a total of eight sets all day and have not caught one fish yet," said Webber.
Webber, who has been in the fishing industry for 53 years, said judging by environmental conditions, the Alaska Department of Fish and Game had started fishing too early, with low water, heavy ice and low temperatures contributing to slow migration into the Copper River district.
"Personally I thought the department should have waited till next Monday for our season start up but here we are, straining water," he said.
---
Thursday, May 14, 7:09pm PST
Fishing 'slow'
Multiple sources are saying fishing is slow so far, "but that's fairly typical for the opener," Christa Hoover at the Copper River Prince William Sound Marketing Association told IntraFish. "It's early. The river was still frozen and cold no more than a 10 days ago. It'll pick up."
---
Thursday, May 14, 7:06pm PST
Prices looking to be down on last year
"I got an update a few hours ago and fishing was going very slow," Adam Branin, a meat and seafood merchandiser with Kroger-owned QFC told IntraFish, adding that at the time there was still four hours left to fish, so too early to make predictions.
Branin hopes to have first fish to its flagship store in Bellevue, near Seattle, tomorrow morning.
While he wouldn't give current planned retail pricing, as it is subject to change, he said that he planned on it being lower than last year on opener fish. "With foodservice out of the picture, we are hearing costs will be lower, but we'll see," he said.
--
--
Thursday, May 14, 6:55 am PST
Copper River season gets underway
The Copper River District opened today at 7:00 am for a 12-hour commercial gillnet fishing period. Pleasant weather greeted fishermen as they headed out to the grounds, with temperatures expected to be in the mid-50s and little chance of rain.

The Alaska Department of Fish and Game (ADFG) in January projected a sharp decline in the catch of Copper River sockeye.
The state fisheries regulators forecast a total harvest of Copper River sockeye of 970,000 fish, down 23 percent from the 2019 overall harvest, and 25 percent below the 10-year average.
The 2020 commercial common property fishery (CCPF) harvest forecast for the Copper River District is 771,000 sockeye and 223,000 coho salmon. The king salmon common property harvest forecast is 36,000 fish. The 2020 sockeye salmon harvest forecast is 41 percent below the 10-year average of 1.31 million fish.
--
Wednesday, May 13, 2:35 pm PST
Will the fish be in stores and restaurants by Friday?
Despite dreary news surrounding whether restaurants will even be operating well enough to offer specialty items like Copper River salmon, some companies are making it work.
One example is Seattle family restaurants such as Anthony's Restaurants -- a key participant in past Copper River kick-off events -- which last week, was not even sure it would be in a position to serve customers.
The company recently learned it will be able to offer Copper River this year, even if the only option is for customers to purchase it for takeout.
"Stay tuned for specific locations," Inge Krippaehne-Kaiser, Anthony's marketing director, told IntraFish.
Seattle-are retailers still plan to have Copper River salmon in some stores on Friday morning, Adam Branin, a meat and seafood merchandiser with Kroger-owned QFC told IntraFish.
"And we hope to have product into all 61 stores by Sunday, provided we get enough fish to do so," he added.
Despite closures reported around the country, Seattle area QFCs have not closed fresh seafood counters.
"We did not close seafood counters due to Covid, quite the opposite," he said.
Branin said he felt a responsibility to help out supplier fishermen and fisheries during the pandemic that started around Lent, with foodservice being decimated by social distancing measures.
------
Wednesday, May 13, 2:06 pm PST
Somber in Seattle
More than 200 Seattle-area hospital workers on Friday morning will be among the first to enjoy the season's first catch of prized Copper River salmon after it arrives from Cordova, Alaska.
Seattle was one of the first states in the United States to become a coronavirus hot spot.
The health-care focused event backed by Trident Seafoods and Ocean Beauty is a change from a celebration that traditionally involves foodservice.