Last week, the dispute between the US Customs and Border Protection agency and producers and shippers of Alaska pollock began its trek through the US court system.
There is plenty at stake for pollock suppliers and the companies that move their product. A staggering $350 million in fines are facing these firms, and it remains unknown if a temporary restraining order being sought by shipping companies will be granted by the court and stop the fines from continuing to build.
At stake, too, are the fortunes of many secondary processors and companies that manufacture fish sticks, quick-service restaurant fish sandwiches and other consumer favorites derived from Alaska's most abundant fish resource.
Despite all this uncertainty, one thing is apparent: the optics of this situation are not good for pollock producers and shippers.
Take a look at the photo below. This is an image from Google Maps of the "railway" used by American Seafoods and other pollock producers to satisfy an exemption in the Jones Act that allows these companies to use a non-US vessel as part of what the shippers' attorney described as a "carefully-calibrated operation" to ship pollock to their customers on the US East Coast.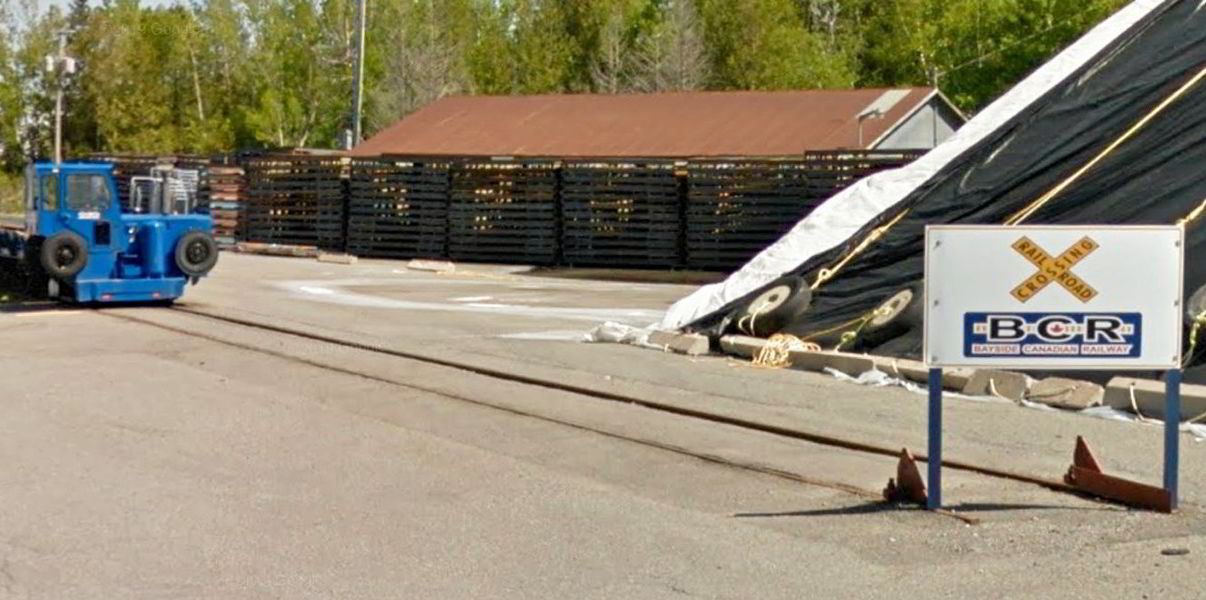 If you want an even closer look at the BCR railroad, Google Street View will let you wander past the tracks and to the Kloosterboer Bayside facility.
Kloosterboer Bayside at one point loaded videos of the "Trackmobile" rail operation onto its Facebook page, but those have since been removed, though there is no way to know when that occurred.
However, this video briefly shows the rail cars carrying a tractor trailer down the 100 feet of track (starting at about 1 minute in). Again, it doesn't look good.
Under what companies have dubbed "The Bayside Program," American Seafoods and others for years have been using an exemption to the Jones Act to load pollock stored at its Kloosterboer Bayside facility in Dutch Harbor onto foreign-built or owned trampers, which then transport the fish through the Panama Canal to New Brunswick, Canada, where the fish are supposed to be transported over the Canada-US border to customers along the US East Coast using "through routes" over Canadian rail lines.
When the products arrive -- over 90 percent of which is Alaska pollock -- they are stored in at the Port of Bayside, then transferred onto trucks that are loaded onto flat rail cars on the tracks of the Bayside Canadian Railway (BCR), a registered Canadian railroad that is about 100 feet long, according to court documents, making it a competitor for the world's smallest railway prize.
In an almost comical touch, there is even a railroad crossing sign, even though no road runs across the tracks.
"The trucks travel the length of the rail trackage and back. After the trucks are unloaded from the BCR rail trackage, they drive directly to the Calais, Maine, border crossing and into the United States," according to court documents.
Basically, then, we have a 100-foot rail line to nowhere – it certainly doesn't appear to qualify as through route in any way – that is being used to satisfy the exemption in the Jones Act.
To most, a "through route" implies some type of meaningful transportation – not a tiny set of parallel train tracks in a parking lot that move a truck full of fish forward 100 feet then backward 100 feet, after which the truck is unloaded from the flatbed rail car and free to cross the border and enter the United States.
In defining a through route, CBP in 2004 denied a request by Horizon Lines to reconsider an earlier ruling in which CBP specifically rejected any implied "commercial reasonableness" requirement and noted that a "through route" does not require the most direct route.
Hello loophole.
There is no way to know where this case is headed. Attorneys I have talked to say it is a case that could end up in the US Supreme Court. Others say the CBP will likely cuts fines significantly and pollock producers and shippers will have to abandon the current transportation system and replace it.
But if knowledge of this is litigated in the court of public opinion, it seems likely the average person would consider what the pollock companies and shippers are doing is something that definitely violates the intent of the Jones Act exemption they are currently operating under.
Unlike the 100-foot Bayside Canada Railway, this case is going to be a wild ride.
Any comments, complaints or retaliatory rants, please feel free to email me at john.fiorillo@intrafish.com.