US per capita seafood consumption rose 7.9 percent to 20.5 pounds in 2021, according to newly released figures from the National Fisheries Institute (NFI).
Shrimp consumption grew by nearly a pound per person, solidifying its place as America's favorite seafood. The jump is a remarkable 18 percent higher from 2020, the most recent available statistics prior to Wednesday's report.
Salmon also saw big gains, growing by over 19 percent from 2020.
"The 2021 Top 10 List bears out some long-held consumption predictions," NFI Programs Director Richard Barry, told IntraFish, noting the overall bump in consumption was closely tied to pandemic-driven market forces.
"For years, industry experts have reported a big overall increase in pandemic-era seafood consumption. There's no doubt we'll continue to see pandemic-related market forces influence these numbers in different ways over the next few years. But this snapshot in time is evidence of a big consumption win," he said.
Staples such as canned tuna, tilapia, and Alaska pollock held their positions on the top 10 list, but all saw declines from 2020.
Canned tuna in particular saw a precipitous fall to 1.9 pounds per capita -- a stunning 47.2 percent decline from 2020.
Alaska pollock consumption also dropped, by 11.4 percent.
Meanwhile, farmed whitefish pangasius jumped three spots to No. 6, and clams made its way back onto the list, showing a surprising 73 percent rise.
Another shellfish favorite, crab, also saw a jump.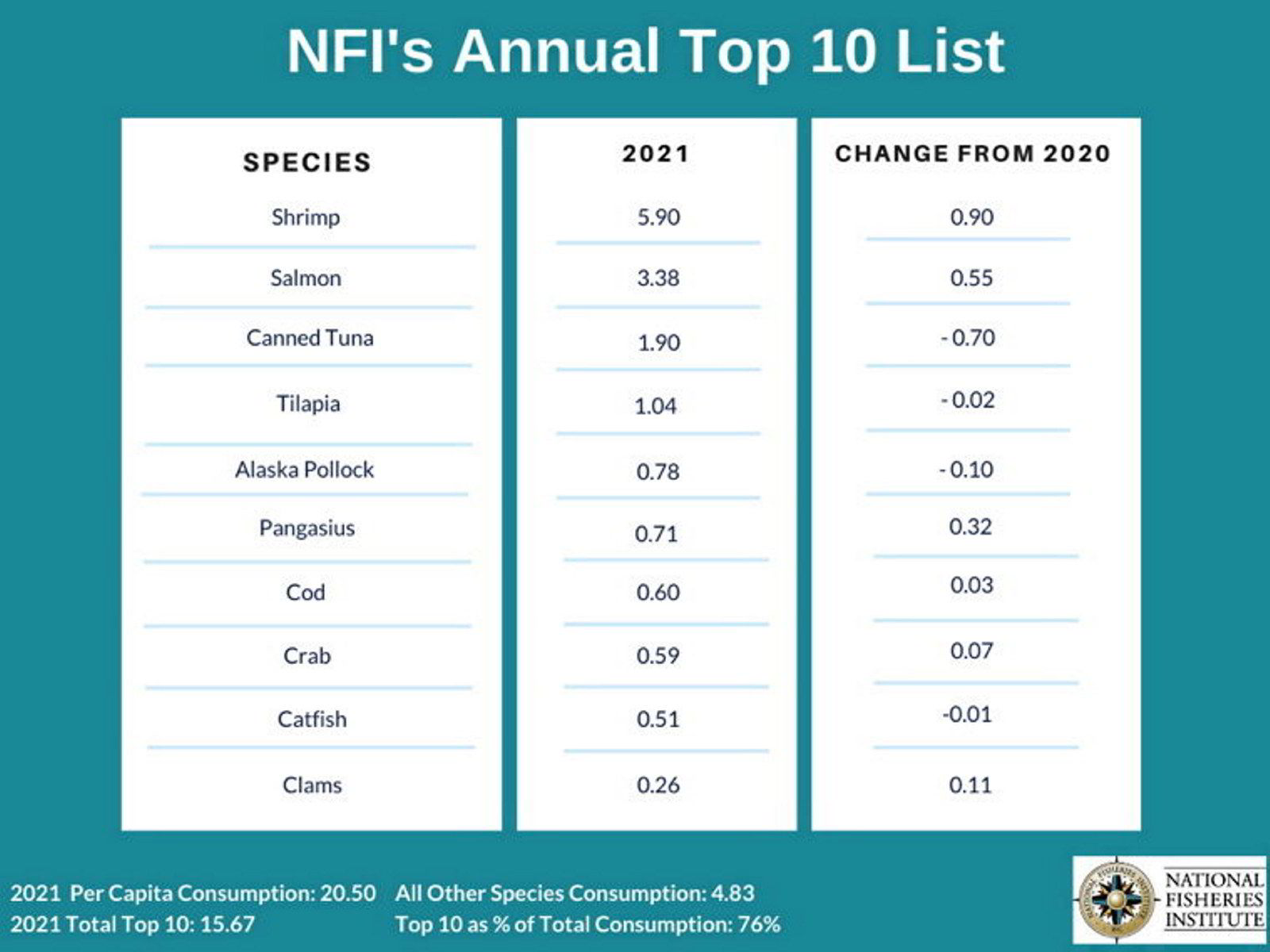 Though the NFI list is a retroactive look at the overall consumption, it's broadly considered the most comprehensive and accurate picture. The association bases its figures on official National Oceanic and Atmospheric Administration (NOAA) data.
However, the annually released figures don't factor in significant trade, biological and geopolitical changes, for example, Russia's invasion of Ukraine. The United States instituted a ban on direct imports of Russian seafood in 2022, which likely impacted consumption of whitefish species significantly and will be reflected in 2022 numbers when those are released.
Additionally, issues such as the collapse in the Bering Sea crab stocks, which dramatically reduced the availability of crab on the US market, are not reflected in the 2021 numbers.
Still, the rise is a welcome uptick from the previous report, which showed a decline in per capita seafood consumption.
In 2020, per capita consumption fell from 19.3 pounds in 2019 to 19 pounds.