The gloom engulfing the UK fish and chip industry appears to be at least partially lifting.
Around 70 percent of the country's 10,500 fish and chips shops have reopened as owners find innovative new ways of doing business even before lockdown restrictions are eased.
Though most are providing a restricted service, a shift in working working practices aimed at helping the sector deal with the coronavirus crisis may become the new normal for the foreseeable future and could even remain permanent, National Fish Fryers Federation (NFF) President Andrew Crook told IntraFish.
Six weeks ago it was a different story. The UK fish and chip industry greeted the nation's lockdown with as many as 80 percent of shop owners turning their window signs around to "closed."
But not for the first time in the country's history, necessity has become the mother of all invention, leading to something of a turnaround. Posters for fish and chips even invoke the wartime spirit.
One breakthrough for this traditional industry is a "click and collect" ordering system accessed online or through an app relying on the use of time slots for customers to collect their food.
UK's phenomenal fish & chips sector
There are currently some 10,500 fish and chip shops in the United Kingdom. That dramatically outnumbers fast-food outlets, including McDonald's and Kentucky Fried Chicken.
British consumers eat some 382 million meals from fish and chip shops every year, including 167 million of just fish and chips.
Annual spend on fish and chips in the United Kingdom is in the region of £1.2 billion ($1.4 billion)
80 percent of people visit fish and chip shops at least once a year, and 22 percent visit fish and chips shops every week
Source: National Federation of Fish Fryers
Crook's own shop, in Euxton Lancashire, which has streamlined the menu, is one of those back in business, taking 80 percent of weekly turnover in just two days using click and collect.
"I had the busiest weekend I have ever had, I had 40 percent less staff and I had no queues," he said.
By receiving orders days in advance, shop owners know how much fish and potatoes to prepare.
Gold's Fish & Chips in Bromsgrove, Worcestershire, introduced a range of measures to protect customers, including separation screens, queuing outside with two-meter distancing and a maximum of three walk-in customers allowed in the shop.
The business also brought in separate click-and-collect lines outside the shop and separate click-and-collect collection points inside. Customers can pay with cash with contactless cards.
Sensitive pricing
Fish and chips are a price sensitive product, making it difficult to increase prices. Depending on the region, a portion of fish and chips comes in at about £7 (€7.99/$8.70).
"You can't suddenly charge 8 quid for it -- it's very difficult," Crook said of the high-volume, low-margin business.
The industry is talking to the government about slightly relaxing social distancing between staff. One way to achieve this may be to allow them to pass each other in kitchen and serving areas back to back. Shops may, however, be required to provide personal protective equipment (PPE) to staff.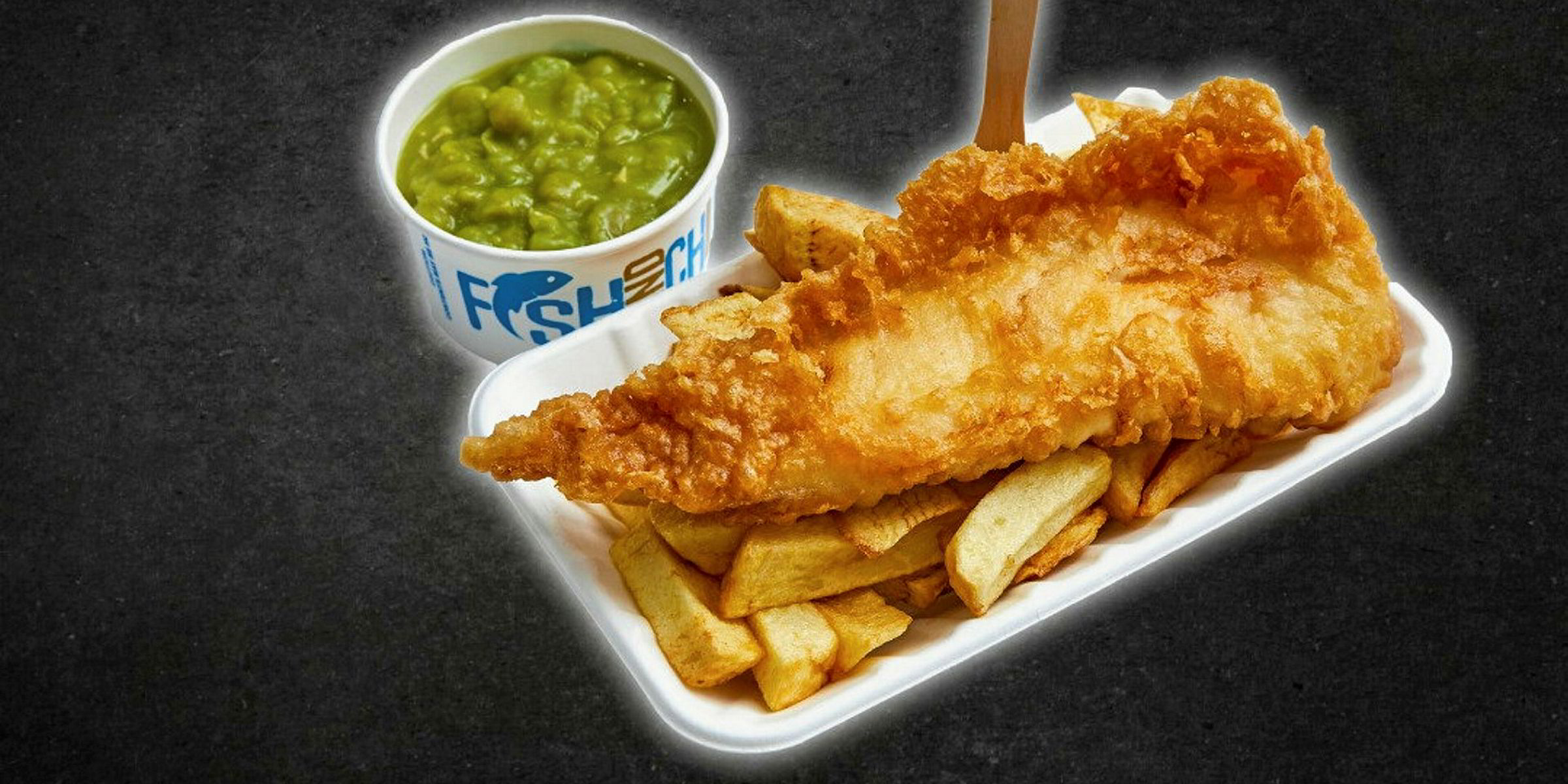 While it is difficult to social distance in the close quarters of most chip shops, businesses are trusting staff to declare whether they have shown any coronavirus symptoms before reporting to work.
One issue that hasn't been cleared up is that of prohibitive insurance coverage for delivery drivers, which the NFFF is pressing the government on to put pressure on insurance companies to cut rates.
To get around this some fish and chip shops are using the services of local taxi firms who have seen business nosedive as the public has stayed home.
Wartime campaign
For many the joy of eating fish and chips just wouldn't be the same without their portion being sprinkled with salt and malt vinegar.
Sarson's, the country's best known malt vinegar maker, has launched a campaign to highlight the heroes of industry in the wake of the coronavirus crisis, championing the beloved fish and chip shops of the United Kingdom, which have risen to the challenge to support their local communities, through a new social media campaign using the hastag #ProudToServeOurCommunity.
The campaign, which also aims to support Hospitality Action's Covid-19 appeal, offers the chance for chippies not only to receive recognition, but to win up to £500 (€570/$622) toward their next wholesale order.
"For many, chippies are already shining beacons in their communities," Sarson's Sales and Marketing Director Bryan Carroll said. "No matter how small or large the gesture, we want to hear these good new stories in the hope that it will help buoy the whole community."
Trickle-down effect
The return to business for fish and chip shops was bound to have some positive knock-on effects for fish suppliers, even if they are not running at full capacity.
Grimbsy Fish Merchants spokesperson Simon Dwyer said that with the increase in fish and chips shops reopening, albeit on restricted days, it is great news for the vast majority of Grimsby's 25 small seafood processing businesses.
"The demand created by the reopening across the country has meant that more supplies of cod and haddock arrived from Iceland and Norway this week," Dwyer said.
"We're by no means back to business as usual, due to the overall foodservice collapse, but it's certainly welcome green shoots as we start to adjust to the Covid situation."
Special Coverage: Coronavirus