Risk-loving investors looking to buy into land-based salmon farming are spoiled for choice on today's market, and now have a couple of publicly listed companies to choose from.
By now, everyone knows the name Atlantic Sapphire, and is familiar with its ambitious US land-based salmon farming project, the eye-popping sums the company has raised on capital markets, and the unfortunate "oopsies" that have raised eyebrows about how quickly a small oversight can devastate biomass in enclosed spaces.
All eyes are on the company as it closes in on its first harvest, which is expected upon the completion of its first, eight acre "bluehouse."
"This fully integrated facility is on track from this summer to produce millions of heart-healthy salmon meals to Americans with a freshness and quality never seen before in the USA," said CEO Johan Andreassen in a LinkedIn update earlier this week.
The anticipation has been building, and investor confidence, egged on by Andreassen's bullish communications, is at a new high, with shares now hovering at NOK 139 (€13.10/$14.90). That's up over 90 percent from a March 23 low, and places the company's market cap at NOK 9.9 billion (€930.6 million/$1.1 billion). We've remarked on this number before.
While Sapphire's valuation alone is proof enough of the over-exuberance, another newly listed land-based salmon farmer further underscore investors' enthusiasm and how it might be a bit out of whack with on-the-ground reality.
Andfjord Salmon, an early-stage land-based salmon farmer, trading on the alternative market NOTC, just announced it would list on the Merkur Market, with an expected equity of NOK 1.2 billion (€112.8 million/$128.4 million).
New projects continue to come out of the woodwork, and with the current successes, the Merkur Market is being eyed as a great potential way to raise capital.
--
This map shows the spread of proposed -- emphasis on proposed -- land-based salmon farms
--
Sign up for our FREE salmon newsletter
The share growth at "conventional" salmon farmers such as Mowi, Norway Royal Salmon, Grieg isn't far behind Atlantic Sapphire's, by the way.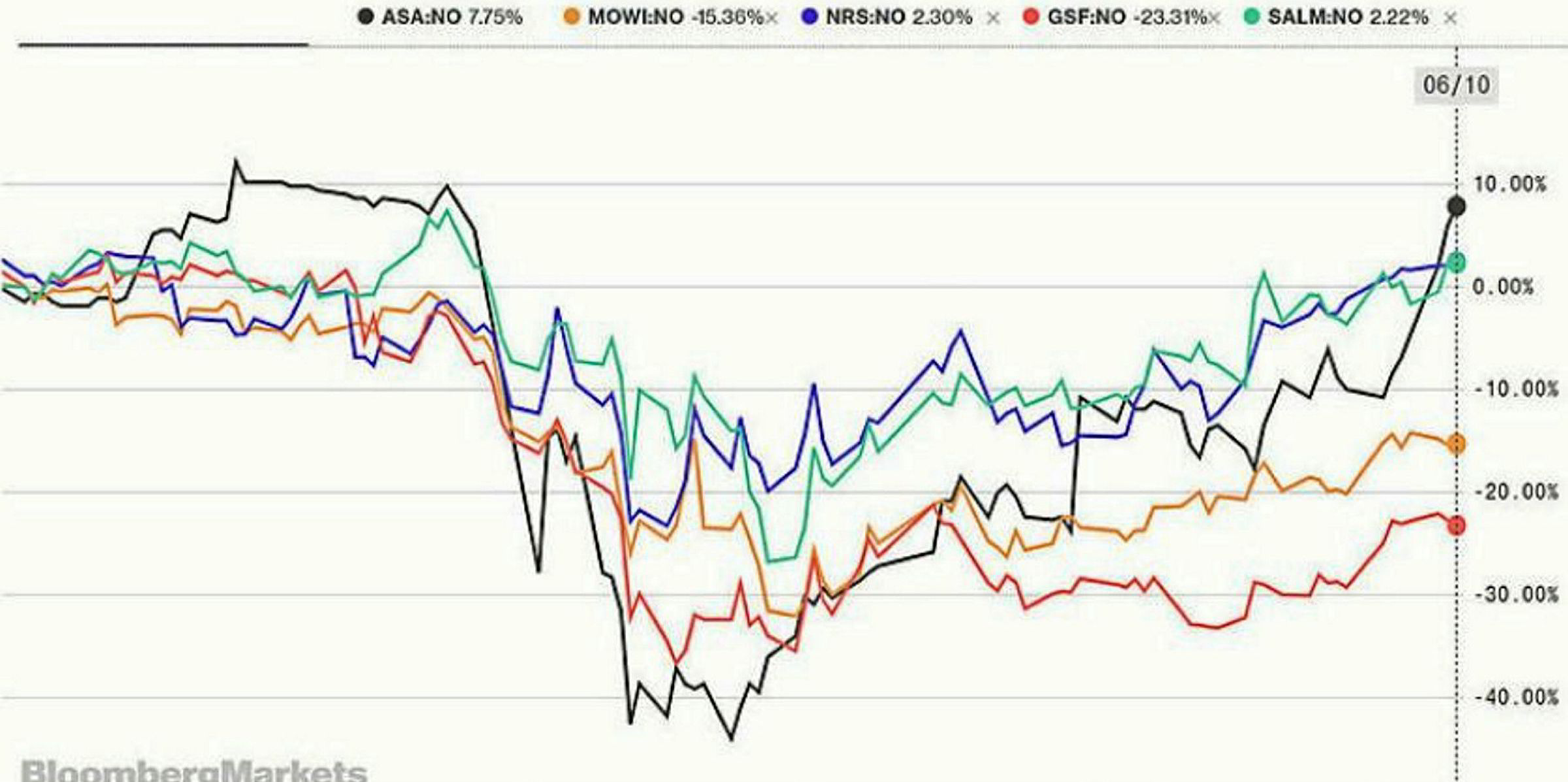 But those companies lack the excitement, the danger, and the je ne c'est quoi of land-based salmon farming.
There is, of course, the problem of no fish to sell. But that's a problem for another time.
--
*The original version of this story included the recent listing of Ice Fish Farm, which no longer farms Arctic char in land-based systems.