With the IntraFish plant and cell-based seafood webinar going live Tuesday, here's a look at how seafood companies stack up against other protein and protein alternative companies, such as poultry powerhouses Tyson and Sanderson Farms.
Beyond Meat went public in May last year, announcing an IPO of 9.625 million shares at $25 per share. Another protein alternative company is eyeing an IPO for this year, according to Market Watch. Impossible Foods is behind Burger King's Impossible Whopper.
Bleak outlook
Meanwhile, the current pandemic has plummeted expectations this year for company performance. In the recently released Business Intelligence report -- Investing in Seafood -- IntraFish surveyed more than 175 seafood executives and it's clear the outlook for revenue growth has soured.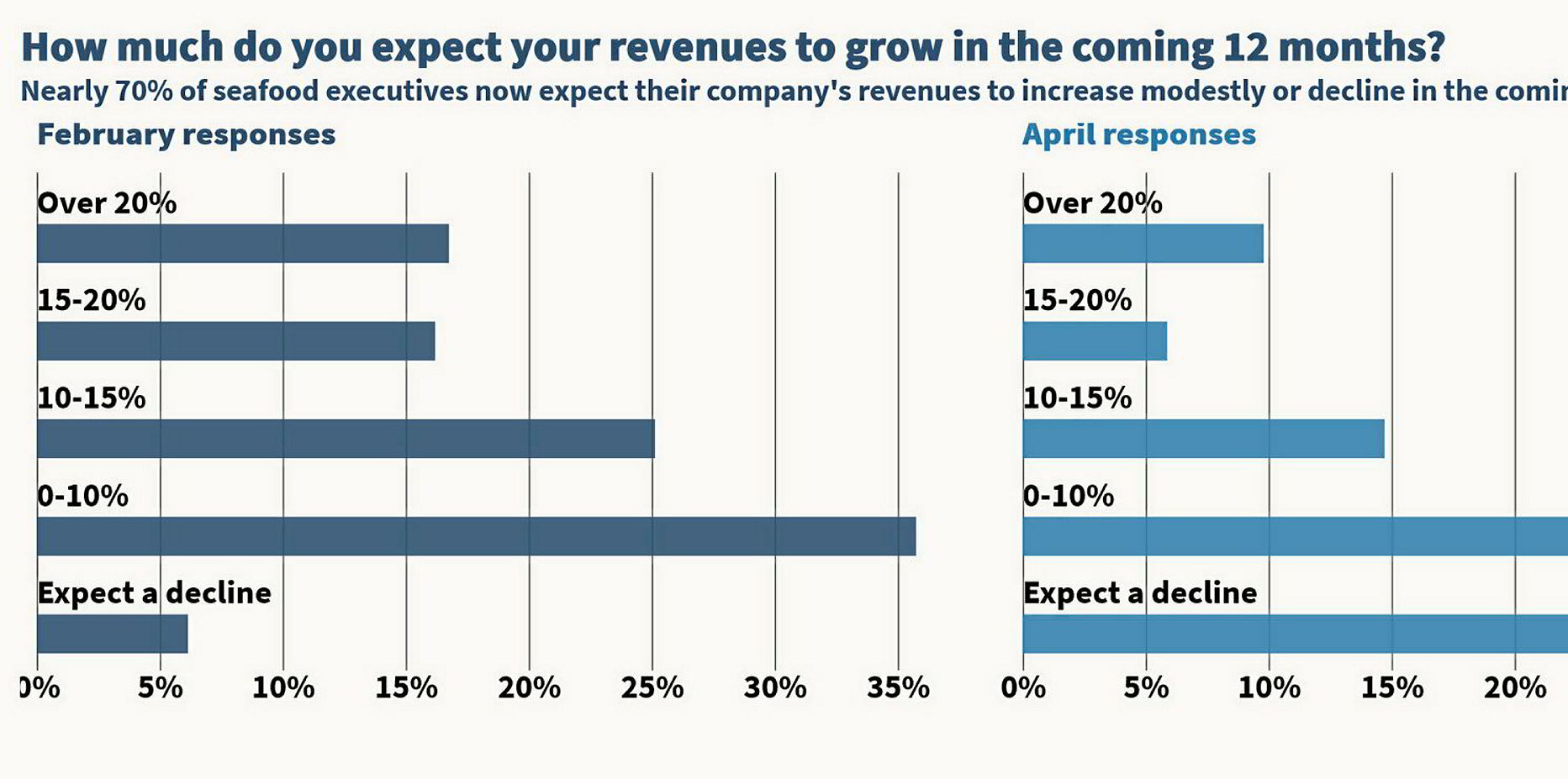 ---
Negative returns to date
Stocks held by the seafood-specific investment fund have delivered negative results year-to-date, mainly due to the coronavirus hiccup.
Over the years Holberg has built a platform where it monitors more than 200 seafood companies in 20 plus markets.
Despite the negative performance, the growing demand for healthy foods worldwide provides the industry with a significant growth potential over the next five to 10 years.
---
Deal Flow
Despite a very coronavirus-stricken year for all industries, more than 30 seafood-related deals were inked in the first four months of 2020, proof of the sector's resilience.
Here's an interactive summary of the most recent transactions:
US seafood importer and distributor Fortune Fish CEO Sean O'Scannlain said there will be more big news this year for the premium seafood company following Bahrain-based private equity firm Investcorp's recapitalization of Fortune International, the parent of Illinois-based Fortune Fish.
The company has announced five acquisitions in the past 11 months, including the Kansas City operations of Seattle Fish and Missouri-based EuroGourmet, a distributor of specialty pastry foods.
Singapore-based aquaculture producer Barramundi Asia acquired Singaporean startup Allegro Aqua in January, a company founded in 2018 with the aim of scaling up production of a high-quality strain of Asian seabass (barramuni).
In April, Marubeni Corporation and Nippon Suisan Europe reached an agreement to jointly acquire 66.7 percent of the shares of land-based salmon farmer Danish Salmon.
The move is a first step into land-based salmon production by the Japanese giants, who cite the growing demand for seafood and the static production of fisheries as their reason for the move.
Another acquisition announced during the year was Grieg Seafood's takeover of the huge Eastern Canada salmon operation with long-term annual harvest potential of 30,000-45,000 metric tons of Atlantic salmon.
Another potential tie-up that has been on the radar for quite some time is between Canada's Cooke Seafood and Ocean Beauty Seafoods, with discussions centering around the merger of some or all of Icicle Seafoods' and Ocean Beauty's operations.
---
Full results of our Seafood Executive Survey can be found in our Investing in Seafood report.